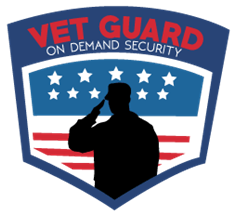 New York, NY (PRWEB) January 25, 2017
Global Threat Solutions (GTS), a US-based and 100% veteran-owned intelligence and security consulting and services firm, announces the launch of Vet Guard, a mobile app for on demand security services. Vet Guard is the first app of its kind and allows companies and individuals to request on demand security services from highly-trained military veterans with extensive security, intelligence and law enforcement experience.
The app is set to launch mid-March in New York City and Long Island, with long-term plans to include multiple domestic destinations, as well as overseas locations.
With growing threats of terrorism and other criminal activity, the need for advanced security and protection services has never been greater. Vet Guard users can easily request the high-level security services they need. Vet Guard provides a full suite of security services, including armed and unarmed security, secure transportation, executive protection, special event security, corporate security, airport transport, and long-term security solutions.
Vet Guard is easy to use and available to all smartphone users. To use the app, a customer downloads Vet Guard and creates a task. The job is sent to all available employees using the Vet Guard app. Once an employee agrees to the assignment, the customer receives a confirmation. After the assignment is complete, the customer is billed through the app and the employee is paid by Vet Guard. The customer will be asked to complete a satisfaction survey and to rate their protection officer on a scale of one to five stars. If an employee receives two or fewer stars on three occasions, then they will be placed on hold status.
While Vet Guard is highly beneficial for companies, travelers and dignitaries, it provides veterans with a promising career opportunity. Veterans can utilize their immense military training to deliver a much-needed service. All Vet Guard Protection Officers must be military veterans. Additionally, they must either be a NY State certified security officer or an active or retired law enforcement officer. Vet Guard employees must also meet internal training requirements and are offered additional opportunities for company training.
For more information, please contact Global Threat Solutions at 1(888)543-1329 or info.globalthreat(at)gmail(dot)com. You may also stop by their booth at the New York Times Travel Show January 27 – 29, 2017. The Vet Guard website will be http://www.vetguards.com and will be active by February 1, 2017.
About Global Threat Solutions:
Global Threat Solutions (GTS) is a US-based, 100% veteran-owned intelligence and security consulting and services firm that provides comprehensive security guidance, training and consulting services to governments and businesses domestically and abroad. GTS also offers elite protection and investigative services using experts in their respective fields. GTS's highly experienced consultants, protection specialists, and investigators have decades of experience in the law enforcement, military, and intelligence sectors. For more information, visit http://www.globalthreatsolutions.com.