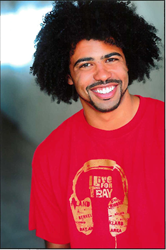 Our clients come to Summit from around the world to connect with industry leaders, learn from best-in-class marketers, and get inspiration they can take back to their own work. - Gene Austin, CEO and president of Bazaarvoice
AUSTIN, Texas (PRWEB) January 25, 2017
Bazaarvoice, Inc. (Nasdaq:BV) announced today that Grammy and Tony Award-winning actor, singer, and rap artist Daveed Diggs will participate in a moderated conversation during the opening session of the Bazaarvoice Summit taking place March 8 – 9, 2017 in Austin, Texas.
Best known for his roles in Broadway's "Hamilton" and ABC sitcom "Black-ish," Diggs' is also moving to the big screen, co-starring in the upcoming Stephen Chbosky-directed drama, "Wonder." Diggs' diverse experience in the performing arts and his commitment to creativity and authenticity align with common topics today's marketers care about and challenges they face.
The conversation with Diggs will be followed by a full conference day of panels, workshops and breakout sessions featuring speakers from Bazaarvoice clients, partners, and industry. Experts from Walmart, Unilever, Epson and O2 will present on a wide range of topics including personalization, brand advocacy, data-driven marketing, and the growing role of visual content. Attendees will also explore the Bazaarvoice Summit Consumer Experience (CX), an immersive experience that demonstrates how marketers and advertisers can drive awareness, consideration, conversion, and advocacy for their brands.
"Our clients come to Summit from around the world to connect with industry leaders, learn from best-in-class marketers, and get inspiration they can take back to their own work," said Gene Austin, CEO and president of Bazaarvoice. "We look forward to welcoming Daveed Diggs to our opening session to inspire our clients to find and reach consumers in innovative ways."
Early registration for the Bazaarvoice Summit is available now through Jan. 30 for $299. Starting Jan. 31, registration will increase to the regular rate of $399.
About Bazaarvoice
Bazaarvoice helps brands and retailers find and reach consumers, and win them with the content they trust. Each month in the Bazaarvoice Network, more than one-half billion consumers view and share authentic consumer-generated content (CGC), including ratings and reviews as well as curated visual content, across 5,000 brand and retail websites. This visibility into shopper behavior allows Bazaarvoice to capture unique first-party data and insights that fuel our targeted advertising and personalization solutions.
Founded in 2005, Bazaarvoice is headquartered in Austin, Texas with offices across North America and Europe. For more information, visit http://www.bazaarvoice.com.