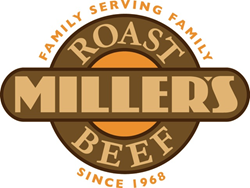 PROVIDENCE, RI (PRWEB) January 27, 2017
Miller's Roast Beef, one of the Northeast's most popular sandwich chains, is excited to announce it is partnering with Upside Group Franchise Consulting (USG) to offer franchise opportunities to entrepreneurs interested in providing their community with an innovative fast-casual concept perfect for today's individualistic consumer!
Roger Graham Jr. and Gwendolyn Graham, the current owners of Miller's Roast Beef, attribute the bulk of their success to their philosophy of "People First": serving people, respecting people, building people, supporting people, motivating people, and coaching people. They believe if you do this – everything else falls perfectly into place. This philosophy enabled them to provide a consistent product and consistent service throughout all their years in business. Family and friends are woven into the fabric of Miller's Roast Beef. Today, several generations of families along with long term employees are involved in everything from day-to-day operations to working on the floor and pitching in when needed. Graham, the brands third generation owner, states: "Family is what has made us a success; our staff throughout the years and our loyal customers are that family."
Founded in 1968 in East Providence, Rhode Island, Miller's Roast Beef soon became a staple in the area, priding themselves on the fact that their roast beef is slow roasted and cooked all day to perfection. The family-owned restaurant serves over 200-pounds of roast beef per day, offering sandwich options for every taste bud.
Miller's Roast Beef opened its second location in Attleboro, Massachusetts and the brand stays true to many of their customer's favorites; from the classic bar stools and community style seating to the way they prepare their delicious lean roast beef sandwiches, thinly sliced on a toasted buttered roll. This gem of the Northeast continues to grow and flourish, offering popular catering options and continuing to refine their classic menu. As Graham puts it, "it's a bit of the past continuing to the present – when quality meant something special." To meet the overwhelming demand for customizable fast-casual dining options, the owners made the decision to franchise.
As Miller's Roast Beef begins its journey into the franchising world, Graham and the rest of the Miller's family are confident that a partnership with Upside Group Franchise Consulting will be crucial in replicating the success of their initial location and maintaining the brand's integrity and popularity.
Mario Altiery, the President and founder of Upside Group, is excited to be working with Miller's Roast Beef. "It's a pleasure to be working alongside this excellent family and watching a quality brand grow and flourish while providing excellent opportunities for future franchisees. Miller's is a throwback in franchising. A brand that has decades of experience and has truly vetted each and every aspect of the business allowing them to build a truly comprehensive franchise opportunity."
About Miller's Roast Beef
Anchored in East Providence, Rhode Island, Miller's Roast Beef is a family-owned sandwich shop dedicated to serving families and businesses, and where employees, customers, and vendors are all a part of the "Miller's Family." Miller's offers a variety of sandwiches and sides including their signature roast beef, which uses only the highest quality beef – no fillers, no additives – and is slow-roasted and cooked all day to perfection. In addition, they offer what most people refer to as "their famous mouthwatering fries"; a nostalgic crinkle cut fry considered to be irresistible by their customers. Their key value of "People First" has been instrumental to their success throughout the generations. Join us at Miller's Roast Beef where you will find "Family Serving Family."
To learn more, please visit: http://www.millersroastbeef.com.
About Upside Group Franchise Consulting
Headquartered in Scottsdale, Arizona, Upside Group Franchise Consulting (USG) is a full-service, boutique franchise consulting firm with offices across the country. They have a handpicked, professional staff with decades of franchise experience from all disciplines of the franchise industry. Upside Group Franchise Consulting offers their clients a full suite of franchise services including innovative franchise marketing programs, outsourced franchise sales, franchise sales training, franchise lead screening, franchise manuals, franchise marketing collateral, and award winning web design.
To learn more, please visit: http://www.upsidefranchiseconsulting.com.