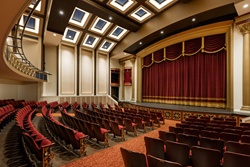 Minneapolis, Minnesota (PRWEB) January 26, 2017
Adolfson & Peterson Construction (AP) received the Minnesota Construction Association's (MCA) Award of Excellence for "New Project Total Value Over $15 Million" for its work on the Minnesota Masonic Heritage Center (MMHC), completed in June 2016. Each year, MCA hosts the Awards of Excellence Gala to acknowledge and honor construction projects and members that make substantial contributions to the community and association. The gala was held this year on Wednesday, January 25th at Minneapolis Marriott West with nearly 200 construction industry professionals in attendance.
During the event, members of Minnesota Masonic Heritage Center's project team – Mark Liska, AP Senior Vice President; Patrick Sims, AP Senior Preconstruction Manager; Tom Dykhoff, AP Senior Superintendent; Eric Neetenbeek, MN Masonic Charities President and CEO; Keir Johnson, MN Masonic Heritage Center Director; Alan Plutowski, Trossen Wright Plutowski Architects, PA (TWP) Principal Architect; and Amy Schwabe, TWP Architect – graciously accepted the award. The 50,000-square-foot Heritage Center was recognized for its elegant detail, unique historic elements and thorough craftsmanship.
Minnesota Masonic Charities officially opened the Heritage Center in Bloomington, Minnesota on Friday, June 24, 2016 with a grand opening celebration. In March 2015, AP started construction on the state-of-the-art facility, which includes a 443-seat auditorium, back of stage support spaces, a museum and archival space, library, conference rooms and a dining space featuring a full catering kitchen. The building's interior includes high-level finishes with detailed wood trim and millwork, natural stone and marble flooring, custom carpets, brass railings and decorative plaster columns, while the exterior is composed of brick masonry, architectural precast and a clay tile roof.
Minnesota Masonic Charities, the owner behind this magnificent project, was established in 2006 with a mission to promote greater levels of philanthropy in the areas of cancer research, children's health, eldercare, education and historic preservation. The construction of this new space now provides the community with an opportunity to learn more about the concepts and contributions of Freemasonry and a beautiful space in which to gather for meetings or events. For more information on the Minnesota Masonic Heritage Center, visit masonicheritagecenter.org.
About AP
Adolfson & Peterson Construction (AP) is a U.S.-based, privately held firm that is consistently ranked among the top 50 construction managers and general contractors in the nation. Founded in 1946, the company has built longstanding commitments to the regions in which it operates and is known nationally for its innovative and collaborative approaches within the building industry. AP serves the education, multifamily, healthcare, commercial, municipal and senior living market segments from its offices in Charlotte, Dallas, Denver, Minneapolis and Phoenix. For more information, visit http://www.a-p.com and follow us on Facebook, LinkedIn and Twitter.