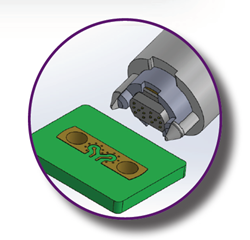 Ardent's product development is driven by the market's immediate and future requirements. Our customers pointed out that a simple, electrically and mechanically reliable solution for carrying high speed differential signals was needed
Santa Clara, CA (PRWEB) January 26, 2017
At DesignCon 2017, Ardent Concepts, Inc., a leading designer and manufacturer of high performance Multi-GHz connectors used in the development and production of semiconductor applications is set to expand its QUICKLINK series by introducing a differential mode connector for high-bandwidth applications. Ardent's patented QUICKLINK Connector mounts directly to the PCB with a twist-to-lock footprint design that requires only two small thru holes and a printed circuit board symbol. QUICKLINK footprints can be placed anywhere on your board to allow easy access to any channels from your device without having to solder on costly SMA or SMP surface mount receptacles or route complicated trace paths.
By providing a differential mode option, Ardent aims to support engineers facing noise challenges in interfaces implemented with differential signaling like Infiniband, 100 Gbit/s Ethernet, and PCI Express. It's tight pitch offers substantial space savings over traditional surface mount or edge launch connectors.
"Ardent's product development is driven by the market's immediate and future requirements. Our customers pointed out that a simple, electrically and mechanically reliable solution for carrying high speed differential signals was needed everywhere from test boards, to evaluation boards, to OEM production. We knew our QUICKLINK connector, offering superior signal integrity to 70 GHz and beyond, was the perfect form factor to deliver the solution needed," said Gordon Vinther, CTO of Ardent.
The QUICKLINK unique design doesn't require any threading or tools like many connectors, so users will be able to reduce test and manufacturing time significantly without sacrificing connector reliability. The connector is also designed to produce an open signal if not properly connected so users don't have to worry about skewed results from a bad connection. QUICKLINK's differential mode and single ended versions are available in 20 / 40 / 70 GHz configurations to support any high-speed application.
Visit Ardent at booth #653 at DesignCon 2017 at the Santa Clara Convention Center, Feb 1-2, 2017 to learn more about QUICKLINK and Ardent's other 32 Gbps+ / 70 GHz+ connectors.
About Ardent Concepts
Ardent Concepts is a leading designer and manufacturer of high performance multicoax assemblies, probes, connectors, and sockets used in the development of next generation semiconductors and electronics systems. Our core technology is the smallest, fastest, most electrically efficient compression mount connector technology worldwide. It is used to connect: integrated circuits and printed circuit boards to instrumentation and to each other offering superior signal integrity in a high speed environment. Markets for our products include: Semiconductor, Test & Measurement, Military/Aerospace, Communications and Medical.
http://www.ardentconcepts.com.