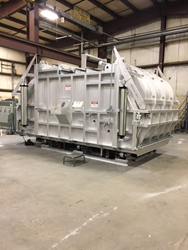 Riverside, Michigan (PRWEB) January 27, 2017
Lindberg/MPH announced the shipment of an aluminum central melting, tilting reverberatory furnace to an die cast supplier of the transportation, industrial, and leisure markets. The melting furnace will be used to melt aluminum used in the die cast process.
The maximum recommended metal temperature for this tilting furnace is 1,500F. The furnace is loaded with aluminum ingot, T-bars, and scrap which are then melted with natural gas fired burners and held for pouring. The furnace is mounted on a cradle to tilt and pour the molten aluminum through an insulated trough. The aluminum melt rate is 2,000 lbs per hour.
This furnace will be capable of delivering molten aluminum to a transfer trough without needing auxiliary pumping equipment. Metal and chamber temperature is controlled through digital temperature controllers that have Ethernet capability to connect to customer's network. Flue gases and internal temperature are controlled with a modulating flue damper. A service technician provided by Lindberg/MPH will perform supervision during the melting furnace installation and perform start-up training.
Unique features of this Lindberg/MPH furnace include:

Rugged steel plate furnace construction
High alumina castable lining
Hydraulic tilting cradle assembly
Two charge doors located on opposites side of equipment
Flue damper
Insulated molten metal transfer trough
Work and drain taps
Stand alone control panel
Temperature controllers with network capabilities
About Lindberg/MPH
In addition to melting and holding furnaces for non-ferrous alloys, Lindberg/MPH is a leading manufacturer of standard and custom industrial heat treat furnaces, including pit, box, IQ, and belt type for the ferrous and non-ferrous markets. Lindberg customers cover a wide range of industries including aerospace/military, automotive, commercial heat treating, energy/oil, electronics and the forging markets. Founded in 1917, the company has more than 75,000 industrial furnace installations worldwide and their equipment is backed by a full range of customer support services and the most extensive replacement parts inventory in the industry. Lindberg is a proven leader in the thermal processing industry, with a long track record of proven policies and management practices.
Lindberg/MPH is owned by Thermal Product Solutions ("TPS"), a leading American manufacturer of custom industrial ovens used for heat treating, finishing, drying, curing, manufacturing automation and process control. TPS is a global leader in thermal processing products and test solutions with brands including Baker Furnace, BlueM, Gruenberg, Tenney, Lindberg, MPH, and Wisconsin Oven. For more information on equipment solutions from TPS visit the website at http://www.thermalproductsolutions.com. #225053