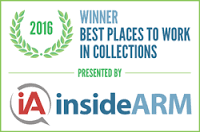 "When companies demonstrate that they truly care about people, their employees and their customers, good things happen."
(PRWEB) January 31, 2017
Best Places to Work in Collections is a two-part survey program that includes the employer's workplace policies, practices, philosophy, systems and demographics. Then, employees complete a survey that measures their overall experience. The combined scores (employee opinion is weighted more heavily) determine the top companies and final rankings.
Capio Partners was ranked #2 out of 15 collection agencies that are categorized in Mid-sized Companies (50-149 employees).
Since 2008 Capio Partners has worked with more than 300 hospital systems, physician, and ambulance companies providing management of non-performing accounts. Capio is exclusive to health care and in the past nine years evaluated over $50 billion worth of non-monetized assets.  
Bob Hodges, President and Chief Operating Officer of Capio Partners says that, "Being named for the 5th consecutive year as one of the Best Places to Work in Collections is truly a testament to the dedication of the staff and management at Capio Partners. We continue to seek new and innovative ways to provide a service to our clients that not only meets, but exceeds their expectations in how we deliver our service. This occurs at every level within our organization which helps us deliver a superior product, while engaging our team members to produce a corporate culture that, in my opinion, is second to none. This ranking, while bestowed upon the company, is a direct result of the dedication and hard work of every Capio employee and I am very proud to be a part of such a great group of people."
"The incredible job our team does would not be possible without the sense of love and respect everyone has for our clients, their patients and each other. Huge thanks to every single Capio employee for contributing to a truly wonderful environment!", states Joe Bufano, Chief Client Officer of Capio Partners.
Dave McMullen, Principal at redpepper, an integrated marketing agency, and a Capio Advisory Member, congratulates Capio Partners and adds, "When companies demonstrate that they truly care about people, their employees and their customers, good things happen."
Ending on a high note, "With a collaborative effort from our employees and our leadership team, Capio was awarded one of the Best Places to Work in Collections for the fifth year in a row! We always want to strive to be the BEST and we will do what it takes to keep getting awards like this year after year!" exclaims Mark Detrick, Chief Executive Officer, Capio Partners.
Capio is compliant, compassionate, and through our Complaintless Collections™ model, we provide the missing and logical end to the revenue cycle. What sets Capio apart is the emphasis on treating our client's patients with the respect and dignity they deserve and remaining sensitive to their financial circumstances.
Complete your revenue cycle and boost your bottom line with a new industry leading practice that is compliant with government regulations, patient-centered, and 100% guaranteed. With what Capio offers, everybody wins! Please check us out at http://www.capiopartners.com/.