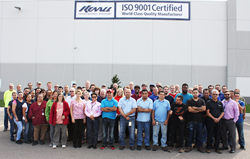 LED now offers superior efficiency, a strong economic benefit and, in many cases, pricing parity.
Kenosha, Wisconsin (PRWEB) January 31, 2017
In 1963, When Kenall Manufacturing was just a Chicago start-up lighting company, it was the goal of the company's founder, Ken Hawkins, to "do it all". As Kenall has grown, it has successfully adapted to market demands to become a leading supplier of durable, solid-state lighting solutions for the food processing, sealed enclosure, healthcare, transportation, high-abuse and correctional industries. Today, the company's CEO and second-generation owner, Jim Hawkins, announced that Kenall has completed its conversion from legacy lighting sources to LED engines and drivers. Now the "all" in Kenall represents all LED.
Jim Hawkins, who has guided the company in to this new era, praised the accomplishments of his staff: "The Kenall team has been working diligently to provide efficient, advanced LED solutions in each of our product families and vertical markets, and as of January 2017, Kenall no longer offers compact fluorescent or HID products as standard." Hawkins continued: "The legacy platforms no longer offer any advantages for our customers: LED now offers superior efficiency, a strong economic benefit and, in many cases, pricing parity. At Kenall we have embraced this forward-facing technology and we are changing the way the world thinks about lighting." Based on market demand, select linear fluorescent products will remain in Kenall's current product portfolio.
At the end of 2014, while in the midst of planning and designing for this technology shift to all-LED engines and drivers, Kenall relocated to a new, vertically-integrated 354,000 square-foot corporate headquarters and manufacturing facility in Southeast Wisconsin. The company also recently earned ISO 9001:2008 certification, helping insure the repeatability and consistency of its quality practices. Kenall is unquestionably positioned to tackle tough future challenges: "Today we offer a well-designed solution to meet all of our customers' needs," concluded Hawkins.
Kenall Manufacturing was founded in Chicago, Illinois in 1963 and has built a reputation for durable lighting solutions of superior quality and exceptional value. Today, the ISO 9001-certified company focuses on the transportation, high-abuse, correctional, healthcare, sealed enclosure and food processing markets. Kenall luminaires are designed and manufactured in the USA and meet the guidelines established under the Buy American Act and the North American Free Trade Agreement. For additional information, visit http://www.kenall.com.