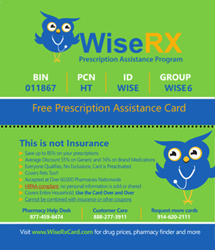 Jefferson Valley, NY (PRWEB) February 07, 2017
Wise RX, a provider of pharmacy medication discount cards has launched its prescription discount card service for Smartphone users as well. The service has been made available from December 12, 2016.
Now people can get their prescription card on their mobile phone by simply sending a text. Users can text "WISE" to 313131 and receive a discount card over their Smartphone anywhere, anytime. They can then show the digital card to their pharmacist, to receive a discount on their prescription medication.
Wise RX helps you save money on your prescription medications and it's free to use. People can download it online in .pdf format, get it on their phone via text, or simply subscribe for their services via email.
Currently, Wise RX has helped people save over $13,967,656.07 and the number keeps increasing every day. Their card is accepted at over 60,000 pharmacies, including national chains such as CVS, Walgreens, Rite Aid, and Walmart, along with your local pharmacy.
Wise RX's goal is to ensure that every person gets prescription medication regardless of whether or not they have insurance. With new means to obtain the card, they are making it easier for the users to get discount on their prescription medications.
Read more about this new feature here: http://www.wiserxcard.com/text-rx-card-to-your-phone/
Contact Information:
Wise RX Discount Card,
PO Box 806,
Jefferson Valley, NY 10535
Website: http://www.wiserxcard.com