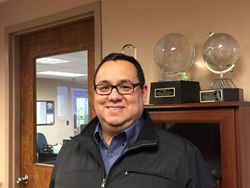 The addition of Jaime Portillo as a manufacturing leader is a statement of our continuing commitment to provide our customers the world class service they expect from an industry leader. Dave Trinkley
(PRWEB) February 01, 2017
Graphel Carbon Products is pleased to announce the appointment of a new Vice President of Manufacturing, Jaime Portillo. Jaime joins Graphel Carbon Products with over 16 years of experience in the graphite industry, both domestically and internationally. Jaime will be based out of our West Chester, OH location, but will have responsibility in all locations, Ohio, Minnesota and South Carolina.
"Jaime brings a wealth of knowledge, exceptional qualifications and demonstrated success to our company", said Dave Trinkley, President of Graphel Carbon Products. "The addition of Jaime Portillo as a manufacturing leader is a statement of our continuing commitment to provide our customers the world class service they expect from an industry leader. We are excited that Jaime has joined our team, and look forward to continue growth".
Most recently an Operations Manager with Graftech International, Portillo has significant experience in manufacturing, engineering, machining and leading large capital and expansion projects.
Portillo commented, "I am excited to be joining such a positive team, and look forward to bringing my experience to help grow the business. I expect it to be a challenge."
Graphel Carbon Products provides precision ground EDM graphite blanks and parts to print services for a variety of industries, including plastic injection mold makers, gas turbine engine manufacturing, power generation manufacturing, medical and furnace applications.