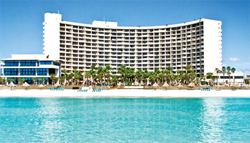 Panama City Beach, Fl (PRWEB) February 03, 2017
Ahoy, mateys! Boaters will want to set their course to Panama City Beach for the 2017 Boat & Lifestyle Show that's making its way to Aaron Bessant Park this March. This land based show takes place March 3rd to March 5th and will feature boat displays from all major manufacturers and the top dealers representing the latest in boats, high tech engines, electronics and marine accessories.
This event truly is more than a boat show as it features everything for active, outdoor beach lifestyle that makes vacationing at the beach so popular. From stand up paddleboards and fishing kayaks, to outdoor kitchens, diving, active wear and beach cruising bicycles. In short, all the great things residents and visiting tourists enjoy on and around the water along the beaches is available at this event.
The Boat & Lifestyle Show is a great addition to the many reasons to visit Panama City Beach in March! With warm spring days, great attractions such as Gulf World Marine Park, and great rates at some of the best places to stay on the beach like the Holiday Inn Resort, March is a great time to getaway to PCB! Located just a few minutes from the 2017 Boat & Lifestyle Show, the Holiday Inn Resort offers a welcome beach retreat for all their guests with 340 rooms all facing the Gulf of Mexico, great entertainment, and a beautiful tropical pool deck that features an enormous hot tub, heated fountain pool, and large lagoon style pool. With a beachside bar & grill, sun deck, kid's activities center and a full line-up of poolside music from DJ Jim Lawson to singer / saxophone dues and other great entertainment options, it's easy to see why the Holiday Inn Resort is the most popular place to stay on Panama City Beach! For more information on this great resort visit http://www.hipcbeach.com or for event ticket prices, show hours, and to discover what great brands and activities will be featured at this event visit http://www.gulfboatshow.com/.