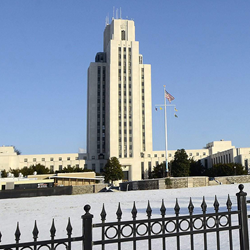 "Hassle-free interagency procurement and turnkey solutions designed and implemented by JAYKAL is a game-changer for the federal LED lighting market." – Brian Asher, Vice President of Energy Services
Harbeson, Delaware (PRWEB) February 02, 2017
JAYKAL LED Solutions (JAYKAL), a leading manufacturer of LED lighting products and a supplier of turnkey lighting solutions, has been awarded dual, five-year indefinite delivery, indefinite quantity (IDIQ) contracts with UNICOR after a lengthy and highly competitive bidding process.
As a Category 1 IDIQ MATOC awardee, JAYKAL will supply cutting-edge LED fixture and lamp component kits to UNICOR facilities in the western United States for final assembly and eventual distribution to US federal installations around the world. These highly efficient, BAA compliant, commercial and industrial LED lighting products are already in use at dozens of federal properties. "As a previous Category 1 contract awardee, JAYKAL helped produce lighting products that save the United States government tens-of-millions of dollars in electricity annually," says Brian Asher, JAYKAL's Vice President of Energy Services. "JAYKAL's newest Category 1 contract allows us to continue our tradition of domestic manufacturing excellence with UNICOR for another five years."
JAYKAL was also awarded a Category 2 IDIQ MATOC. As a Category 2 awardee, JAYKAL will provide lighting-related development, design, and installation services to the same federal agencies purchasing their BAA compliant LED luminaires. "Our Category 2 contract award is incredibly exciting," says Brian Asher. "As the only company awarded a contract in both categories, JAYKAL is now uniquely positioned to help the United States government make meaningful facility and building level energy reductions in an expedient and cost effective manner. By engaging JAYKAL and leveraging UNICOR's interagency procurement capability, an inefficient and deteriorating lighting system that used to take years to replace will now only take months. Hassle-free interagency procurement and turnkey solutions designed and implemented by JAYKAL is a game-changer for the federal LED lighting market."
For more information about federal contracting opportunities with UNICOR and JAYKAL, please visit http://www.jaykalusa.com or call Brian Asher, Vice President of Energy Services, at 302-295-0015.
JAYKAL LED Solutions is a vertically integrated manufacturer of innovative LED lighting products and a provider of energy services. JAYKAL prides itself on the quality of its products, the quality of its customer service and the surprising speed at which it can develop, certify for safety and quality and bring a new technology to market. JAYKAL maintains ownership of its intellectual property, warranty and service support and regional distribution capability at its corporate headquarters in Harbeson, Delaware. JAYKAL is a federally certified minority owned business enterprise and a SBA designated small disadvantaged business with field offices in Tampa, Florida and Hong Kong, HKSAR.