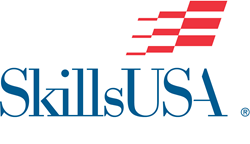 SkillsUSA is essential to addressing the skilled trades job gap with the hands-on expertise and talent these careers require
Leesburg, Va. (PRWEB) February 02, 2017
Thousands of local SkillsUSA chapters are joining more than 50 state associations for SkillsUSA Week Feb. 5-11, 2017. The annual celebration, presented by Carhartt, represents over 300,000 SkillsUSA members nationwide and promotes career and technical education (CTE). The week highlights the benefits of the SkillsUSA program in developing personal, workplace and technical skills grounded in academics. More than 4,000 schools are expected to participate this year.
SkillsUSA Week activities include presentations to administrators, business leaders and legislators; school tours and open houses; community service events that benefit local charities and organizations; interviews with the media; student-led rallies and campus outreach; and industry partnership development. SkillsUSA Week is held the second week of February each year in conjunction with Career and Technical Education Month.
"SkillsUSA Week is a time for us to spread the positive message of our organization and bolster support for local programs that define student excellence. The reach of SkillsUSA is of utmost importance as we work toward our goal of graduating 100,000 SkillsUSA students each year who are workforce-ready on Day One of their job," said SkillsUSA executive director, Timothy Lawrence. "This is one of the most important weeks of the year."
One of America's most respected workwear brands, Carhartt Inc., is presenting SkillsUSA Week and supports these efforts to showcase SkillsUSA and CTE.
"SkillsUSA is one the largest career and technical student organizations in the United States and a proven talent pipeline for career-ready employees," said Tony Ambroza, senior vice president of marketing at Carhartt. "We are proud to support a student-driven organization like SkillsUSA that promotes individual achievement and ongoing community involvement. SkillsUSA is essential to addressing the skilled trades job gap with the hands-on expertise and talent these careers require."
Nationwide, CTE encompasses 94 percent of high-school students in the United States and 13 million college/postsecondary students in high schools, career centers, community and technical colleges, four-year universities and more. CTE and SkillsUSA are working to be a vital solution to our nation's economic and workforce challenges, such as high-school dropout rates, a weakened economy, global competitiveness and massive layoffs. At a time when opportunity for employment is critical, SkillsUSA and CTE are working to ensure students are equipped with the skills to successfully enter the workforce.
For more information on local SkillsUSA Week events, contact your area career and technical center.
About SkillsUSA
SkillsUSA is a vital solution to the growing U.S. skills gap. This nonprofit partnership of students, instructors and industry ensures America has the skilled workforce it needs to stay competitive. Founded in 1965 and endorsed by the U.S. Department of Education, the association serves more than 300,000 member students and instructors each year in middle schools, high schools and colleges. This diverse talent pipeline covers 130 trade, technical and skilled service occupations, the majority STEM-related. More than 600 corporations, trade associations, businesses and labor unions actively support SkillsUSA at the national level. SkillsUSA programs are integrated into career and technical education through a framework of personal, workplace and technical skills grounded in academics. Local, state and national championships, designed and judged by industry, set relevant standards for career and technical education and provide needed recognition to its students. SkillsUSA also offers technical skill assessments and other workplace credentials. For more information, go to: http://www.SkillsUSA.org.
About Carhartt, Inc.
Established in 1889, Carhartt is a global premium workwear brand with a rich heritage of developing rugged products for workers on and off the job. Headquartered in Dearborn, Michigan, with approximately 5,400 employees worldwide, Carhartt is family-owned and managed by the descendants of the company's founder, Hamilton Carhartt. For more information, visit: http://www.carhartt.com.
###