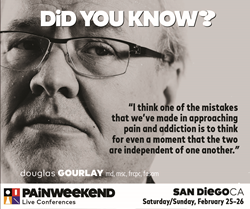 Montclair, NJ (PRWEB) February 07, 2017
PAINWeekEnd (PWE) San Diego, on February 25 and 26, at the San Diego Marriott Del Mar, 11966 El Camino Real, will be an educational and exciting 2-day program providing busy clinicians and allied healthcare practitioners with 12.0 hours of relevant, practical instruction in the management of chronic pain.
California has a 1-time requirement of 12 CME credits in pain management and treatment of terminally ill and dying patients, which must be finished before the second license renewal date or within 4 years, whichever occurs first. By attending PAINWeekEnd San Diego, participants can enhance their skills in medication risk evaluation and mitigation, pain assessment and diagnosis, and delivery of individualized multimodal treatment.
Course topics/titles (subject to change) include The Silent Healthcare Epidemic: Counterfeit Medicine; Not for Human Consumption: New Drugs of Abuse and Their Detection; The Gentle Art of Saying No: How to Establish Appropriate Boundaries With Chronic Pain Patients; Central Sensitization and Ketamine Infusions; Nonopioid Analgesics: Antidepressants, Adjuvant Therapies, and Muscle Relaxants; Falling Down the Rabbit Hole: A Primer for Chronic Pain Management and Substance Abuse Disorders; Embrace 2017 Practice Changes and Patient Education: Mitigate Clinical and Legal Risks; If 6 Were 9: The CDC's Prescribing Guidelines and the Veil of Secrecy; Trainwreck: Addressing Complex Pharmacotherapy With the Inherited Pain Patient; Get Your Specimens in Order: How to Avoid Bad Company and Tame the Paper Beast Associated With Testing Drugs of Abuse; The Medical Stasi: Is Risk Management for Controlled Substances Destroying the Provider-Patient Relationship?; Cannabis vs Cannabinoids: The Politics of Medical Marijuana.
In addition, there will be commercially supported activities addressing a range of product, disease state, and medical information topics. To see the complete agenda and more information about this or other PAINWeekEnd Regional Conference offerings, go to painweekend.org.
The online registration fee for this PAINWeekEnd Conference is $199. PAINWeekEnd registrants are further offered the opportunity to register for the 2017 PAINWeek National Conference, September 5-9, in Las Vegas, for $200 off the current online published price.
PAINWeekEnd is provided by Global Education Group.