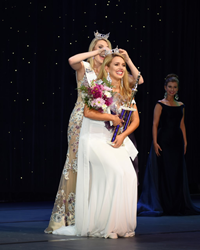 Tampa, Florida (PRWEB) February 06, 2017
Olivia Butler was crowned Miss Tampa 2017 at the 71st Annual Miss Tampa Scholarship Pageant at the Moroccan Palace, Busch Gardens Saturday night, February 4, 2017. Olivia Butler is a 23-year-old graduate of Wake Forest University, NC and is continuing her education at University of South Florida. She is pursing acceptance into medical school. Olivia's win as Miss Tampa 2017 gives her $5,000 in scholarship money to further her education. Olivia will now compete at the Miss Florida competition on July 1, 2017.
"Knowing that I have the opportunity to represent the City of Tampa is a remarkable feeling," said Olivia Butler. "The other 13 women in the competition were so enjoyable and part of a night that was absolutely incredible in every way."
The Miss Tampa Scholarship Pageant started in 1946, and has awarded hundreds of thousands of dollars in educational scholarships during the past 71 years. On Saturday night, educational scholarships and donations totaling $12,150 were given away to the women with the highest scores:

Olivia Butler: Miss Tampa 2017 - $5,000 Scholarship
Angela Tompkins: First Runner-up - $2,500 Scholarship
Anastasia Lusnia: Second Runner-up - $1,500 Scholarship
Paige Millirons: Third Runner-up - $1,000 Scholarship
Payton Barrington: Fourth Runner-up - $500
Olivia Butler; The Cathy Pike Abridge Spirit Award - $250
Donation to Children's Miracle Network - $1,400
"Our 71st anniversary marks the Miss Tampa Scholarship Foundations mission to educate exceptional young women from the Tampa Bay area," said Jim Conte, Board of Directors and Marketing Manager for Miss Tampa Scholarship Pageant. The Miss Tampa Scholarship Foundation is an official local franchise of the Miss America Organization. The Miss America Organization is one of the nation's leading achievement programs and the world's largest provider of scholarship assistance for young women. The Miss America Organization and it's state and local organizations have made available more than $45 million in cash and scholarship assistance.
Contestants are judged on their communication skills, talent, physical fitness, confidence, and grace under pressure. Miss Tampa contestants are young women who are talented, confident, empowered, and become role models for young women.
Bob Clark, Executive Director of Miss Tampa said, "Olivia Butler" is an outstanding young woman and we are looking forward to seeing her compete at this year's Miss Florida competition."
About Miss Tampa
The Miss Tampa Scholarship Organization is an official local franchise of the Miss America Organization. The Miss Tampa Pageant is a 501(c)(3) organization and is associated with,
The Miss Florida Scholarship Pageant and The Miss America Scholarship Pageant, which are among the largest scholarship providers for women in America today. The Miss Tampa Scholarship Foundation Pageant is one of the oldest preliminary competitions existing in the state of Florida, having crowned their first winner in 1946. For more information, please, visit, http://www.misstampa.org
Photo Credit: John Weatherby, Weatherby Photography