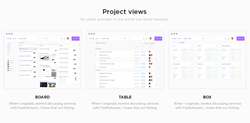 Palo Alto, CA (PRWEB) February 06, 2017
ClickUp, a Palo Alto based project management platform being released this November, has released the first photo showcasing their product's user interface.
Organizations aren't using project management tools effectively. While organizations are aware of its importance – in fact, 97% of organizations believe project management to be critical – few are aware of the severity with which inefficiency related to project management is taxing their bottom line.
A major study in 2016 shows that for every $1 billion invested in the United States, $122 million (over 12%) is wasted due to ineffective project performance.
Brian Evans, the CEO behind ClickUp, says, "Despite the severity of the problem, very few people realize the underlying causes behind the inefficiency. We realized that the #1 obstacle affecting our own team with other project management systems wasn't an absence of functionality, it was always an interface that obfuscated workflows and increased the amount of time and brainpower involved to review progress and get things done."
After struggling to nail a UI that solves the underlying issues that permeate existing tools, ClickUp believes they've found and implemented a powerful solution.
Instead of attempting a "one-size-fits-all" design that aims to serve everybody, ClickUp matches form to function so that every party involved can have the information they need structured in a way that optimizes their workflow.
This is done by utilizing three distinct "views," all of which showcase similar information in a unique way to best serve a specific utility.
The first is "Board View" which is a traditional Scrum board – the standard for Agile development.
The second is "List View" which is designed for developers managing complex tasks or who have to track progress across multiple tasks at once.
Lastly, "Box View" is for managers to get a high level overview of what's going on and offers the ability to drill-down into specific reporting metrics and KPI's.
"What's interesting about project management is that it's a space where everybody is already sold on it's importance. So much of the day-to-day stress in running a business is dealing with project management, but few people realize that most of these headaches are a direct byproduct of using bad tools that result in convoluted workflows and low information bandwidth across roles. By fixing the tools, you can open up so much time, energy, and capital to apply to other areas of the business," says Evans.
ClickUp is launching March 1st, 2017 as a "developer first" project management platform.