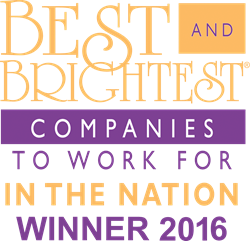 Our secret sauce is our commitment to supporting our team members both professionally and personally.
Troy, MI (PRWEB) February 07, 2017
Once again, Billhighway is pleased to receive the title of Best and Brightest Companies to Work For in the Nation, their fifth win in a row. The team attributes the win to its "Satisfaction Never" attitude and providing a healthy work-life balance. The Human Resources Team, referred to as "Team Member Success" at Billhighway, does their due diligence by continuously bringing in new programs and incentives to create a healthy work environment. This team focuses on building a strong culture that is driven by eight "Plays," which are core values that make up the foundation of every department, meeting, product, and team member.
Work-Life Balance
At Billhighway, creating a healthy work-life balance is essential. Team Member Success uses innovative HR practices to ensure they hire all-stars, but even rock-stars need balance. To this end, Team Member Success has worked to incorporate new practices into the team member handbook. This year, there was no shortage of new incentives: from standing desks with ellipticals for extra exercise, to a new Family Flex Policy that lets parents returning to work after the birth of a child or adoption ease back into office life by working part-time, working from home two days per week, or utilizing a flexible schedule. They also introduced a policy in the summer that allowed team members to work four ten-hour days and enjoy Friday or Monday off for an extended weekend, not to mention bringing in a massage therapist on-site several times per year, a chef to teach nutritional cooking recipes, hosting healthy eating workshops, and exploring the world of essential oils and teas. True to their spirit of never being satisfied, many of these suggestions came directly from team member feedback via an anonymous suggestion box. Encouraging team members to share what is valuable to them and leveraging that feedback to make workplace changes is what their Play "No Suits, Just Innovation" is all about.
Growing the Team from Within
Creating a culture of continuous learning and opportunities for personal and professional growth contributes to low turnover and a team that can scale quickly as they bring on new clients. Recognizing this as an area of opportunity, Team Member Success created a successful Career Development program including mentoring, certification programs focused on product and leadership training, plus their own Billhighway University. These programs allow the team to "Play Fearless" while building their own toolkit of skills and experiences to accelerate the transfer of knowledge and allow them to consistently deliver the "Customer Commitment 365" level of service for which they are known.
Creating Impact
Billhighway uses their vision of Do More, Impact More, Grow More to help support local area non-profits. Impact is at the core of Billhighway's Plays. The team supports this initiative through their charitable volunteer program. The charitable giving program provides team members with paid time off to volunteer for a cause that is near and dear to them. The company even incorporates charity aspects into events and competitions, as well as bringing activities on-site where the entire team can get involved—from packing seed packets for Keep Growing Detroit to creating hygiene kits for Common Group Sanctuary. They supported over fifteen different charities in 2016, including the following:

Decorating a home for an underprivileged family
Walking and caring for shelter dogs and cats
Donating to the American Cancer Society to fund cancer research
Collecting cereal boxes to support the local children's hospital and Gleaners Food Bank
Building a house for a veteran through Habitat for Humanity
"This award is a testament to our innovative culture and the amazing team that we have built at Billhighway," said Brenda Gallick, Director of Team Member Success. "Our secret sauce is our commitment to supporting our team members both professionally and personally. It is a true honor to be a five-time Best and Brightest Companies to Work For in the Nation winner."