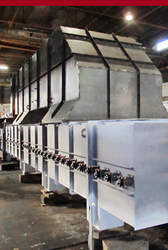 BMI far exceeded our expectations
Philadelphia, Pennsylvania (PRWEB) February 09, 2017
BMI Mergers & Acquisitions announces the sale of The Rose Corporation to a strategic buyer based in Philadelphia PA. The Rose Corporation, 401 North Eighth Street, Reading, PA a privately owned contract manufacturing steel fabrication company, has become a sister company to Abbott Furnace, St. Mary's, Pennsylvania. Having been purchased by the same owner, Edmund Gaffney, of Haverford, PA, both Rose and Abbott will continue to operate independent of each other but will cooperate strategically to broaden their support of existing customers and jointly pursue new avenues of growth. The Rose Corporation, also sold their Mark Metals steel sales and service division as part of the transaction.
The acquisition of The Rose Corporation focuses on broadening new industrial furnace sales opportunities using intellectual property developed/owned by both companies and the ability to build larger furnaces with the expanded facility in Reading.
Elaine McDevitt, CEO and daughter of the company's founders, Louis and Rosemary Bruno, spoke on behalf of her family when she said she couldn't be more delighted with the opportunities this acquisition means to The Rose Corporation and the co-workers who have worked so hard to help build it. "Ed Gaffney could have invested anywhere and he chose to do it in our community, in our company, in our people because of our 30 year history of building a solid reputation in quality, on-time custom steel fabrication. We are so proud of our skilled workforce and what they accomplish every day and are looking forward to the opportunity to broaden our horizons even further with this acquisition."
Gaffney is also excited about the long term prospects for both companies. "Abbott Furnace Company has a reputation as a world leader in the production of continuous thermal process equipment and customer service that is second to none." said Gaffney. "We feel the cultures of both companies create a very positive synergy for moving forward together."
Speaking of BMI, Elaine McDevitt CEO of the Rose Corporation had this to say, "Selling a family business is complex and takes a toll on your time, your emotions and your patience. Because of BMI's experience and knowledge, they were very supportive in navigating my family to a successful close; one we feel good about in terms of our employees, our customers and our own wellbeing. BMI far exceeded our expectations in the way of buyer interest and service and their integrity in doing so was unparalleled. We feel very fortunate to have worked with BMI on this acquisition and would recommend their services to others without exception." BMI Mergers & Acquisitions represented The Rose Corporation, introduced the buyer, and assisted with bringing the transaction to a successful close.
________________________________________________________________________________________________
About The Rose Corporation
Established in 1987, The Rose Corporation has produced a variety of custom built equipment including thermal oxidizers, industrial furnaces of all kinds, condensers, sterilization chambers, ladles, machine bases material handling equipment and more. In 1990 Mark Metals, a steel service center was added to their offerings. Rose and Mark Metals are located in Reading, Pennsylvania.
About Abbott Furnace Company
Abbott was established in 1982 as a manufacturing and service company for control panels. In 1986, Abbott Furnace Company manufactured its first continuous belt furnace for the production of powder metal products. Abbott Furnace Company is recognized as a leader in the production and technology of continuous thermal processing equipment with a reputation for outstanding customer service. Abbott Furnace Company is located in St. Mary's, Pennsylvania.
About BMI Mergers & Acquisitions
BMI specializes in the sale and acquisition of privately held businesses. Our process is designed to be thorough, confidential and attract a large pool of qualified buyers. The end result: Maximum Value for business owners. Our professionals include holders of the FINRA Series 79 Investment Banking registration*, certified business broker intermediaries, and M&A Master Intermediaries.
BMI has offices in Philadelphia, Allentown and Reading Pennsylvania, Stamford Connecticut and Los Angeles. Securities transactions are handled thru StillPoint Capital, Member FINRA and SIPC which is not affiliated with BMI.