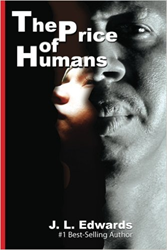 It is because of shame and fear that we do not speak up when we are raped, abused, exploited and discriminated against. We must speak out
East Orange, NJ (PRWEB) February 09, 2017
American politics is going through several changes nowadays. "The Price of Humans", the heart-wrenching and gripping novel by Dr. John L. Edwards addresses key aspects of the current political situation and provides clear insights on "a recurring nightmare".
The story of the author is really exciting: he sought refuge in the United States two decades ago and managed to come out of significant poverty and horrific conflicts. As he explicitly mentions, "I feel like the fires of protests, senseless murders, imploding Molotov cocktails and angry mobs have stalked fleeing immigrants straight to their doorsteps here in America."
This amazing novel narrates the true story of the senseless murder of a young boy's father that forces him to a life of abuse, violence, and exploitation until he meets a man who shows him Truth, Justice, and Equality. Why did the author label this true story as fictional? He did it out of fear of reprisals; fear of economic or social consequences and out of being shameful to admit to the realities of his own life.
Many years later, due to the circumstances, Dr. John L. Edwards is eager to raise his voice and participate in a growing movement of people who are 'coming out' with their truth and demanding justice. "To think of the sacrifices and tribulations so many of us endure to make it to the next day. We climb to the top of the mountain only to be cut down by community violence, over-policing, terrorism, cancer and worst our own leaders. That's a tough feeling" is the author's strong message.
As the key character, George repeatedly declares in the novel "We can't wake up and kill people every day." Why can't we get along? This book is a powerful tool to craft solutions for improving social justice, human welfare, and global tolerance.
For further information and to order your copy of "The Price of Humans" visit Amazon com today.
About
Dr. John L. Edwards is a number one best-selling author, education & business consultant, and educator. His first book "The Price of Humans" is based on his experiences in the ghettos of Kingston, Jamaica. The author plans to turn this unique story into a film. http://www.priceofhumans.com