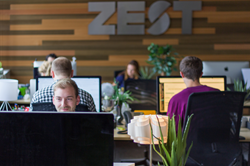 The team at Zest demonstrated a very knowledgeable understanding of the digital landscape, and presented clear ideas on how we can promote our services to a wider audience.
Oxford, Oxfordshire (PRWEB UK) 13 February 2017
Leading Oxford-based digital marketing agency, Zest Digital, are delighted to announce a new partnership with Oxford Bus Company. Zest will be working with Oxford's leading public transport service to promote their services.
Zest will support Oxford Bus Company with Pay Per Click (PPC) and landing page design services, with a view to bringing the reputable transport company into the digital age, appealing to a new set of digitally-savvy consumers.
"We're really delighted to be working with Oxford Bus Company to help promote their digital presence to a wider audience. They're team have got some fantastic ideas and are already thinking ahead to reach and engage mobile audiences. To be able to amplify these ideas and support a reputable and hugely important local business is a real privilege. We're looking forward to it", said Zest's Managing Director, Alex Minchin.
Andrew Morison, Commercial Manager at Oxford Bus Company, had this to say: "The team at Zest demonstrated a very knowledgeable understanding of the digital landscape, and presented clear ideas on how we can promote our services to a wider audience. They took the time to understand our business and our goals, and we very much look forward to working with the team at Zest to achieve them."