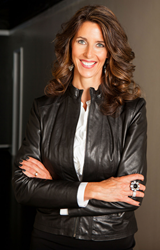 We are absolutely thrilled to have Carey Lohrenz, who has flown worldwide as a combat-mission-ready Navy pilot, as our keynote speaker at Connections 2017
Chicago (PRWEB) February 09, 2017
SilkRoad (http://www.silkroad.com), a global leader in Talent Activation, today announced that former U.S. Navy Lt. Carey Lohrenz, the first female to pilot an F-14 Tomcat Fighter jet for the Navy, will be the keynote speaker at Connections 2017, SilkRoad's eighth annual global user conference, taking place May 7-10 at the Hilton Orlando Bonnet Creek in Orlando, Florida. SilkRoad Connections brings together SilkRoad recruiting, onboarding, performance and learning with industry thought leaders and SilkRoad experts for a three-day exploration of the latest trends and innovations in talent activation.
"We are absolutely thrilled to have Carey Lohrenz, who has flown worldwide as a combat-mission-ready Navy pilot, as our keynote speaker at Connections 2017," said Kamran Kheirolomoom, President of SilkRoad. "In what we're confident will be a motivating and engaging presentation, Carey will share her fascinating journey as she worked in one of the world's most challenging environments – an aircraft carrier – along with her uniquely qualified insights on the fundamentals of winning under pressure, reducing errors and overcoming obstacles."
Lohrenz's keynote highlights what Kheirolomoom predicts will be an engaging, interactive and inspirational event for HR professionals looking to activate their talent and transform their businesses. Along with the jet fighter, the all-star lineup of industry thought leaders for Connections 2017 includes:

Ben Eubanks, principle analyst at Lighthouse Research and Advisory
Kyle Lagunas, who manages the Emerging Trends in Talent Acquisition and Staffing Research Practice at IDC
Mollie Lombardi, co-founder and CEO of Aptitude Research Partners
Kaiser Associates: "Activating Your Talent Team to 'Go Beyond' in Performance and Impact"
Sharlyn Lauby, author of the popular HR Bartender blog
Alexandra Levit, a noted business and workplace author, speaker and consultant
Madeleine Moreno, an expert on immigration law
Ed Muzio, CEO of Group Harmonics
"For HR pros seeking to gain a competitive edge in the dynamic talent activation environment, Connections 2017 is truly a can't-miss event," said Kheirolomoom. "With more than 50 inspirational breakout sessions led by world-class HR experts, HRCI/SHRM credits, best practices, customer awards, hands-on training, product reveals, amazing networking and a killer keynote, Connections 2017 is going to go way beyond what our customers expect."
Editors' Note: A photo of Carey Lohrenz is available upon request.
Additional Resources:
About SilkRoad
SilkRoad is the leading provider of talent activation, enabling forward thinking HR organizations to go beyond today's talent management offerings to deliver modern, personalized talent journeys across a unified talent acquisition, onboarding and development process. SilkRoad activates the workforce, empowers HR and informs business leaders to drive better business outcomes.
For more information, visit http://www.silkroad.com, follow on Twitter @SilkRoadTweets or call 866–329–3363 (U.S. toll free) or +1–312–574–3700.