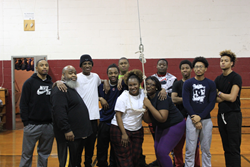 McKeesport, PA (PRWEB) February 11, 2017
Auberle's Employment Institute, a multi-faceted experiential workforce development program, now offers nine nationally or industry recognized certification programs serving over 300 youth in the last year. After a competitive process, the Employment Institute received an exciting opportunity from the United States Environmental Protection Agency (EPA) to expand one of our certification programs: OSHA-40 HAZWOPER or Hazardous Waste Operations and Emergency Response Training.
Over the next two years, Auberle's Employment Institute, in partnership with Weavertown Environmental Group, will train 50 unemployed young adults ages 18 and older in HAZWOPER.
Through HAZWOPER training, youth learn work ethic and how to clean-up, treat, store and dispose of hazardous waste in both emergency response situations and in work places where hazardous waste is an everyday occurrence, such as hospitals. Through Auberle's HAZWOPER training program, youth will have the opportunity to positively impact the environment of Pittsburgh.
Our training partner, Weavertown Environmental Group, specifically designed and customized the HAZWOPER training program to meet the needs, abilities, and learning styles of our young people and businesses who hire our graduates. Learning will take place in both a classroom setting as well as hands-on at worksites and mock remediation tests.
Auberle will celebrate the success of youth graduating from the HAZWOPER program on Friday, February 17, 2017 with a graduation ceremony from 12:00-2:00 pm. The luncheon will be held at Auberle's 412 Youth Zone in Downtown Pittsburgh (304 Wood Street, Pittsburgh, PA 15222).
To learn more about our HAZWOPER Program and Auberle's Employment Institute and/or to schedule an interview with the Case Manager and/or a youth participant, please contact Deb Hilton at debh(at)auberle(dot)org or 412-673-5856 ext. 1315.
###
Since 1952, Auberle has been dedicated to community, strong families and successful youth. Auberle serves over 3,250 at-risk children and families annually in eight counties in southwestern Pennsylvania. Today, we offer 16 programs including preventative and community-based services, with 60% of our clients served in their home, school or in their community. Auberle's services include residential care, foster care, emergency shelter, in-home intervention, education, workforce development, drug and alcohol and mental health programs. Auberle is a recipient of the Wishart Award for Excellence in Non-Profit Management and was named Agency of the Year in the United States by the Alliance for Children and Families, the largest network of human services organizations in the United States. Visit http://www.auberle.org for more information.