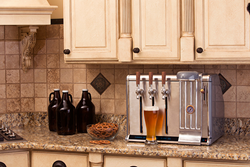 Myrtle Beach, S.C. (PRWEB) February 15, 2017
Penguin Tap Inc., is enjoying a highly successful Kickstarter crowdfunding program for its much-anticipated Growler Chill, a revolutionary craft beer appliance that will allow enthusiasts to enjoy a growler weeks after its purchase.
A countertap, the Growler Chill, which holds up to three growlers at a time, will solve several problems that plague craft beer drinkers who like to enjoy their favorite brew at home. The smart, home appliance preserves freshness, purges oxygen and keeps craft beer dark, cold and on tap.
Compatible with 32 and 64-ounce glass growlers that can be purchased and refilled at breweries, bars and fill stations everywhere, Growler Chill's patented innovations solve the growler perishability problem and extend the life of beer for weeks after opening.
Penguin Tap launched its program on January 26 with a goal of raising $175,000 but rocketed past the goal in less than 24 hours. The Kickstarter staff placed the Growler Chill among its "Projects We Love," and it is closing in on $500,000, making it among the top 3 percent of all successfully funded Kickstarter projects.
"We are overwhelmed by the positive support in the first few days of our launch," Penguin Tap's founder and creator Randy Hollister said. "Our mission is to ensure craft beer enthusiasts can get the most out of their own personal discovery and exploration of fresh, flavorful brews that taste just as the brewer intended. At the core of our vision is a commitment to supporting the craftsmanship of local breweries and the drink local movement by helping them sell more beer."
Among its many features, the Growler Chill connects to the company's free mobile app, allowing users to control temperature, check pressure and track how much beer is left in each of their growlers.
The Kickstarter campaign ends February 28, 2017. Growler Chill is poised to disrupt the craft beer industry by drastically changing the landscape of craft beer growler sales worldwide. Growler Chill is the first of several products that the company plans to produce and manufacture for the beverage industry.
Growler Chill is aimed at the rapidly growing craft beer industry, which the Brewers Association estimates to be 41 Million craft beer drinkers in the U.S. alone, and growing daily.
For more information, go to http://www.GrowlerChill.com.