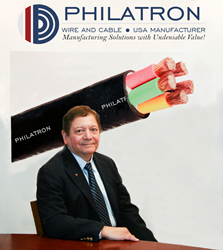 Santa Fe Springs, California (PRWEB) March 07, 2017
A complete line of Aviation Ground Support made with the new Anti-Corking design by Philatron Wire and Cable is now available. Philatron is manufacturing a full line of ground support assemblies, which are UL Listed with a Double Reinforced Jacket rated -40 to +125C for extreme conditions. Phil Ramos Jr. President and CEO of Philatron stated "This new cable design is the most reliable cable and will help airports all over the world with ZERO downtime".
Philatron offers performance made to last with the superior M Class Copper Stranding for a very flexible cable and a great safety feature the implanted thermistor detectors to prevent overheating. Philatron manufactures 100% of all components – from solid copper rod to finished molded connectors under the rigid ISO/RS 16949 Certified Quality Program. Philatron gives you a USA quality cable that you can trust.
The Story of Success Behind Philatron Wire and Cable
Philatron Wire and Cable the U.S. electric wire and cable manufacturer is amongst the giants in the industry. With extraordinary growth one company stands out, Philatron Wire and Cable a USA based company with several manufacturing locations in Southern California. The secret to success has been the hands on approach of the Company Founder and CEO, Phil Ramos Jr., and his cheerful personality and dedication to his faith, employees and customers.
Philatron Wire and Cable is proud to hold the Spotlight Industry Profile in the Internationally Recognized publication, The Wire Journal International.
Please click here to read the full article. https://www.philatron.com/press-releases/wire-journal-philatron.php
About Philatron Wire and Cable
A leader in technology, creativity and innovation, Philatron Wire and Cable is a major wire and cable provider in the USA, manufacturing a full range of wire and cable products. As an industry leader in manufacturing, design, development, technology, and marketing, with over 40 years of service Philatron values core competencies offering copper drawing, roping, cabling, extrusion, injection molding, coiling and assembly. Markets served: Aerospace, Auto/Heavy Duty Trucking, Electrical, Entertainment, Medical, Military, Mining, OEM, Oil & Gas, Transportation, and Utility/Power. Certified ISO/TS16949 (Quality Program) & SDVOSB (Veteran Owned Business)
MADE IN AMERICA
Visit us at: philatron.com.
For additional information contact:
Tammy Ashton
Sales and Marketing Manager