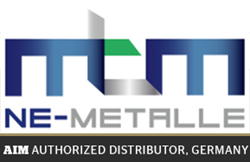 Cranston, RI USA (PRWEB) February 14, 2017
AIM Solder, a leading global manufacturer of solder assembly materials for the electronics industry, is pleased to announce the addition of MTM-NE Metalle as a new distributor for its full line of solder products in Germany. MTM-NE Metalle will stock and supply AIM solder paste, liquid flux, bar, wire as well as other solder assembly materials and will provide assistance to AIM customers within Germany.
MTM-NE Metalle specializes in the EMS industry and is a leading supplier of solders and lead-free products for the electronics industry. MTM employees have many years of experience in the metal, electronics, automotive and recycling sectors, offering companies in the EMS industry a unique blend of knowledge and experience. MTM is both a trading partner and service provider, offering customers technical support, training and services of solder analysis and waste management.
"We are pleased to partner with MTM. The expertise that MTM brings will be an important addition to AIM's existing distributor network and direct sales efforts in this very important region," said David Suraski, AIM's Executive Vice President, Assembly Materials Division.
For more information about MTM-NE Metalle, please visit http://www.mtm-ne.de.
For more information on AIM Solder's complete line of advanced solder products and global technical services, please visit http://www.aimsolder.com.
About AIM
Headquartered in Montreal, Canada, AIM Solder is a leading global manufacturer of assembly materials for the electronics industry with manufacturing, distribution and support facilities located throughout the world. AIM produces advanced solder products such as solder paste, liquid flux, cored wire, bar solder, epoxies, lead-free and halogen-free solder products, preforms, and specialty alloys such as indium and gold for a broad range of industries. A recipient of many prestigious SMT industry awards, AIM is strongly committed to innovative research and development of product and process improvement as well as providing customers with superior technical support, service and training.
Upcoming Events:
February 14-17, 2017 – IPC APEX Expo – San Diego, CA
February 26 – March 2, 207 – TMS 2017 – San Diego, CA
February 28 – March 2, 2017 – Strategies in Light & The LED Show – Anaheim, CA