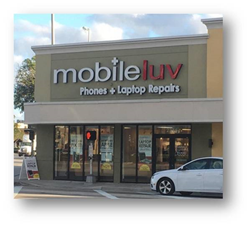 We are bringing an exciting and sexy new brand, attitude and approach to the growing mobile device, computer and electronics repair industry.
Fort Lauderdale, Florida (PRWEB) February 14, 2017
Valentine's Day 2017 - MobileLuv today announced the opening of a new flagship location in Fort Lauderdale and the official launch of the MobileLuv brand. The opening and brand launch come at an exciting time in the burgeoning smartphone and electronics repair industry, as the business continues to grow and evolve with mobile devices and connected homes becoming a "must-have" part of our modern lives. The new MobileLuv location is at 2216 E Oakland Park Blvd in Fort Lauderdale, at the corner of Oakland Park and US1.
The company's mission is to be the go-to dominant retail destination for all mobile device repairs in the markets they serve; providing superior repair, support, protection and advice for smartphones, tablets, laptops and more. "Recognizing how attached we are to our devices and how integrated they are with our daily lives – and how most cellphone repair shops were just average, techie and uninteresting – MobileLuv just made sense," said Kevin Killoran, President and Co-Founder. "We are bringing an exciting and sexy new brand, attitude and approach to the growing mobile device, computer and electronics repair industry. Our store design is meant to be warm and inviting, mixed in with a little flair and attitude. Brand matters, and we believe our MobileLuv store environment coupled with great real estate, in-demand products and services and an exceptional store team will be big hit with our customers."
MobileLuv is a full-service mobile device repair and support center. The company's team of experienced, trained technicians handles everything from simple fixes to more complex problems. While the most common repair is for cracked screens, MobileLuv also offers battery replacement, charging port replacement, water damage recovery and more for mobile phones, tablets and smart watches. Other services include: support for Apple laptops, MacBooks and PCs, including data recovery, hard drive replacements, keyboard replacements and OS upgrades; water protection for virtually any mobile device; data back-up services; and state-of-the-art device diagnostics.
The location offers a broad selection of what it calls "Pre-Luv'd" Apple computers, including iMacs and MacBook laptops, as well as iPhones. These refurbished devices come with a warranty and offer an affordable and dependable alternative to paying full retail. "As the mobile industry evolves, consumers now have an increasing number of choices to stay connected. There is a void in the marketplace for a reputable retail and non-carrier-focused destination for pre-owned devices. MobileLuv aims to fill that void." said Jimmy Ralph, CEO and Co-Founder.
MobileLuv began in 2012 as Phone-Techs, located in Aventura, Florida, just north of Miami. The company has enjoyed tremendous success in the area serving a bustling phone repair market made up of locals, national and international clients in South Florida. The company's plans include a retrofit of its Aventura location, along with significant expansion in other markets beginning in 2017.
MobileLuv was founded by an executive team that has deep roots and history in the wireless industry. The founders and their teams have owned, operated and managed thousands of wireless retail locations dating back to the 1990s. The group currently operates a portfolio of companies including wireless retail stores and retail services, providing outsourced recruiting, staffing, training, management and other services to national companies in the electronics and other industries. For more information, visit SalesMakersInc.com.
For more information about MobileLuv, visit MobileLuv.com