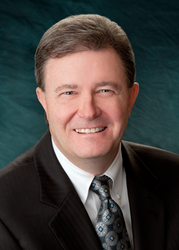 "We are excited about the opportunities that are before us… under Jeff's direction going forward, I am confident that the future is very bright for AP," said AP Chairman of the Board Steven Pinney
Minneapolis, Minnesota (PRWEB) February 14, 2017
Adolfson & Peterson Construction (AP) announced Tuesday, February 14, the appointment of Executive Vice President and Chief Financial Officer (CFO) Jeffrey Hansen to fill the role of Chief Executive Officer (CEO).
Hansen has been serving in a combined role of interim CEO/CFO since October 2016, when former CEO Rick Whitney stepped down. The search for the company's CFO replacement will begin immediately.
"Jeff has proven to be an invaluable asset to AP's leadership team and has helped to navigate the company through various financial, operational and strategic challenges," said current AP Board of Director Members and third generation family shareholder Kirstin Adolfson. "Jeff has the Board's full support. He not only possesses the technical skills and business savvy to lead this organization forward, but he also embraces the core values of the family which has served as a cornerstone of AP's success over the past 70 years."
Hansen has served as AP's CFO for the past five years and has helped lead organizational strategy to solidify AP as a leading contractor in the company's core markets. Prior to joining AP, Hansen held senior leadership positions in the construction, real estate development and property management industries.
AP Chairman of the Board Steven Pinney added, "We are excited about the opportunities that are before us. Our key offices are located in some of the strongest markets in the country with tremendous growth potential and we have one of the most energetic and talented senior leadership teams in the industry. Under Jeff's direction going forward, I am confident that the future is very bright for AP."
AP is currently ranked 37 on Building Design + Construction's Giants 300 Report and reported $703 million in revenue last year. "AP is poised for success as we look to embrace the abundant opportunities in our core markets," said Hansen. "We have an incredibly strong history, a passionate and dedicated workforce, a solid balance sheet and a thriving culture. I am honored and enthusiastic about leading this organization going forward."
About AP
Adolfson & Peterson Construction (AP) is a U.S.-based, privately held firm that is consistently ranked among the top 50 construction managers and general contractors in the nation. Founded in 1946, the company has built longstanding commitments to the regions in which it operates and is known nationally for its innovative and collaborative approaches within the building industry. AP serves the education, healthcare, commercial, municipal and senior living market segments from its offices in Dallas, Denver, Minneapolis, Phoenix and Charlotte. For more information, visit http://www.a-p.com and follow us on Facebook, LinkedIn and Twitter.