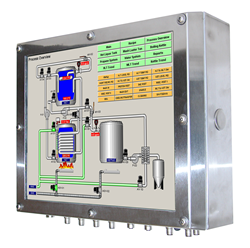 Milford, MA (PRWEB) February 15, 2017
Comark announces the launch of the new Nematron EnduraTouch II Series. The EDT1700 is an improved version of the tried and tested EnduraTouch launched by Comark in the early 2000's. The EDT1700 is a 17" fully enclosed, industrial computer with stainless steel enclosure designed for use in the Food & Beverage Processing, Chemical & Petrochem, and Pharmaceutical markets. It is a perfect fit for applications such as total wash-down spray areas, areas requiring resistance to bacteria, sanitation areas, high temperature areas, or wet, dirty or corrosive environments.
The EDT1700 base model includes a 17.0" LCD display with a chemically-strengthened 5-wire anlog resistive touchscreen, a fanless Intel Quad Core ATOM E3845 processor, 4 GB of DRAM, 80GB Solid State Drive storage, and a NEMA 4/4X, IP66-rated stainless steel enclosure. The EDT1700 has been tested to run reliably in environments with temperatures up to 60°C and is ETL Approved to UL61010 & CSA61010 Ordinary Locations.
The EDT1700 offers Windows 7 Professional (32-bit) operating system as the standard OS or can be configured with Windows 7 Ultimate (64-bit). For I/O connectivity, it offers Dual Gigabit (10/100/1000) Ethernet ports, one RS-232/422/485 serial port, three RS-232 serial ports, and four USB 2.0 ports and can be configured with 100-240VAC or isolated 24VDC power supply.
"We are proud of the enhancements we've made to the EnduraTouch II Series and we feel this is a superior industrial product to many of the enclosed PC offerings in the marketplace today," explains Ralph Damato, VP – Product Management of Comark. "The EDT1700 is a great solution for many customers looking for a rugged and highly reliable industrial computer that's backed by the exceptional quality that Nematron brand products have come to be known for in the industry," continues Damato.
About Comark
Comark is a world-class provider of smarter automation solutions and IIoT platforms for the industrial and building automation markets. With a proven track record of innovative designs and unparalleled reliability, Comark enables companies to implement automation strategies to improve the performance of their business. Comark is headquartered in Milford, MA. Visit http://www.comarkcorp.com for information on Comark brands and products.