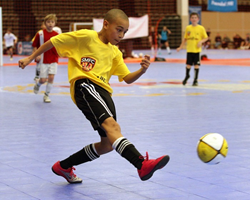 With over 5,000 participating athletes, I rest assured that not only are we providing a surface that exhibits superior ball play, but we are providing the safest sports flooring available." - Alexander J.C Para, President & CEO, US Futsal
Salt Lake City, Utah (PRWEB) February 17, 2017
The largest Futsal competition east of the rocky mountains is set to kick off this weekend, February 17th-20th, in Wildwood, New Jersey. The U.S. Futsal Northeast Regional tournament will feature over 200 teams competing on 7 championship Futsal Courts comprised of over 70,000 square feet of SnapSports Indoor BounceBack ShockTower athletic surfacing. The Northeast Regional tournament is one of three regional competitions taking place on the road to the U.S. Futsal National Championships. SnapSports Athletic Surfaces are the Official Playing Surface of the United Stated Futsal Federation (USFF).
"U.S. Futsal hosts yearly Regionals and the U.S. Futsal National Championship on anywhere from 80,000 to 100,000 square feet of SnapSports surfacing. With over 5,000 participating athletes, I rest assured that not only are we providing a surface that exhibits superior ball play, but we are providing the safest sports flooring available," says Alexander J.C Para, President & CEO, US Futsal
SnapSports Indoor BounceBack ShockTower is the exclusive choice of US Futsal and many other premier sports organizations. The patented ShockTower Technology is currently the only modular sports flooring available with independent shock absorbers designed to ensure a safe and consistent playing surface. An excellent coefficient of friction keeps the surface in place, eliminating the need for time-and-labor-consuming installation of rubber underlayment. All SnapSports athletic surfaces with ShockTower Technology are engineered with the patented ReactivePlay® technology giving an added level of "cush" to reduce impact on joints and limbs.
About US Futsal:
US Futsal celebrates its 35th year of governing and promoting the sport of Futsal in the United States. The USFF is proud to sponsor state, regional, and national Futsal tournaments across the nation and is the only futsal organization directly affiliated to U.S. Soccer and U.S. Youth Soccer.
About SnapSports:
Based in Salt Lake City, Utah—the team at SnapSports continues to develop the most advanced, multi-patented, modular sport surfacing and outdoor multi-courts for top athletes the world over. SnapSports manufactures 24/7, in a 100,000 square foot ISO 9001:2008 quality certified facility in Salt Lake City, UT, and is supported by an authorized global network. SnapSports is a family owned and operated company.