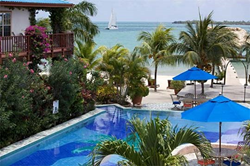 We call it an 'Adam and Eve with a personal butler' experience
San Ignacio, Belize (PRWEB) February 21, 2017
The Lodge at Chaa Creek has teamed up with some of Belize's most highly regarded Caribbean beach resorts to offer a new "ultimate luxury honeymoon" vacation that takes romantic getaways in Belize to an exciting new level, according to the popular Belizean eco-resort's wedding planner.
Denise Duran said stunning surroundings, impeccable service, sumptuous dining, personal spa care and even the attention of a dedicated butler during a vacation that takes couples from Belize's inland jungles to the Caribbean coast add up to "the most luxurious honeymoon ever offered in Belize."
Ms Duran said the new "Belize Embrace Luxury Honeymoon" vacation offers couples a unique opportunity to enjoy Chaa Creek's new Ix Chel Luxury Rainforest Villas and choose from four of Belize's best seaside resorts in one all-inclusive package she described as a honeymooners' "marriage made in heaven" that is both luxurious and surprisingly affordable.
"Our extensive infrastructure and long term, close relationship with partner resorts along Belize's Caribbean coast and on Ambergris Caye allow us to offer exclusive, all-inclusive jungle-to-beach packages that are seamless, efficient and as affordable as they are carefree.
"For 2017 we worked closely with four of Belize's most renowned Caribbean resorts to design an all-inclusive Belize vacation package that for one set price includes all accommodation, meals, transfers, activities, and even government taxes and staff gratuities. Except for alcohol and other specialty beverages, there is absolutely nothing else to pay for and no credit card surprises when you return home.
"We know how important honeymoons, weddings, life events like anniversaries and other romantic adventures are to couples, and wanted to create experiences that are luxurious, relaxed and offer the kind of value that leaves people feeling good. From the moment we pick up our guests at Belize's international airport until we drop them back off, we ensure that everything is taken care of.
"We want couples to unwind and concentrate on the real reason for being here – each other," Ms Duran added.
"Chabil Mar and the Naïa Resort and Spa on the beautiful Placencia Peninsula and Victoria House and Las Terrazas on Ambergris Caye represent the best of Belize's Caribbean resorts and offer honeymooners an unparalleled selection of quality seaside accommodations that, along with Chaa Creek's famous approach to casual luxury, show couples the best of Belize's two worlds – the vast, pristine jungles teeming with exotic wildlife and ancient Maya temples and the sparkling Caribbean coast," Ms Duran said.
During the Chaa Creek portion of the Belize Embrace Luxury Honeymoon package, couples stay at the Ix Chel Luxury Rainforest Villas, the newest addition to Chaa Creek's range of luxury accommodations.
Nestled on a landscaped bank overlooking the Macal River and lush rainforest vistas, the villas are fronted with floor to ceiling glass walls and doors that offer spectacular private views, opening onto expansive verandas with personal plunge pool, Jacuzzi, al fresco shower and custom made lounge and dining furniture. A personal butler is on hand to organise room service, in-room massages and spa treatments, bar, laundry and other services as well as provide advice and assistance in organising tours, activities and excursions, Ms Duran said.
"We call it an 'Adam and Eve with a personal butler' experience," she said, "The villas offer privacy, yet they're still very convenient to the restaurant and lounge, infinity pool, Hilltop Spa, Butterfly farm, Natural History Museum and other amenities, as well as activities such as sunset canoe trips and horseback, mountain biking, guided early morning birding or nature walks along the miles of well maintained jungle trails crisscrossing our 400-acre private nature reserve."
At Chabil Mar couples stay at the resort's Honeymoon Suite and enjoy use of two freshwater pools, kayaks and sea sport equipment, bicycles and other amenities as well as a range of activities that include a full day of snorkelling and a tour of the Cockscomb Jaguar Preserve or Monkey River.
Naïa Resort and Spa provides air transport from Placencia airport, accommodation in a one-bedroom beach house with plunge pool, dining at any of their three restaurants and three 60 minute massages.
Las Terrazas on Ambergris Caye greets couples with a complimentary bottle of wine and snack tray upon arrival with check-in at a luxury poolside garden residence, massage, private fishing and snorkelling adventure with a beach barbecue and use of the pool, Wi-Fi, kayaks and Hobie Cats.
Victoria House, one of Ambergris Caye's oldest and most well-known resorts, offers a welcome cocktail and thatched roof cabana accommodation with a complimentary bottle of wine, one-day use of a golf cart for island sightseeing with unlimited use of kayaks and two half days of snorkelling or one half day of scuba diving with two tanks per person.
Whichever beach resort couples choose, Ms Duran reminded, the package price remains the same and covers all accommodations, meals, transfers, and activities at both Chaa Creek and the seacoast partner.
"It's a great way to experience the best of Belize without planning and paying for each and every thing. Having worked with our partner resorts for years, we can guarantee a smooth, carefree transition for jungle to beach with the same level of quality and care throughout.
"I've been fortunate to assist many couples over the years, organising weddings, honeymoons and helping them plan the vacations of their dreams, and can honestly say that these are the most complete, luxurious romantic holidays ever offered anywhere.
"The new Ix Chel Villas are something we're very proud of, and we're looking forward to kicking off the new year by offering Belize's absolute best honeymoons, weddings and romantic vacations," Ms Duran said.
She suggested that couples can learn more about the Belize Embrace Luxury Honeymoon vacation and all Chaa Creek destination weddings and honeymoons by contacting their travel agents, visiting Chaa Creek's website or contacting the Belizean eco-resort directly.
The Lodge at Chaa Creek is a multi award winning eco resort set within a 400-acre private nature reserve along the banks of the Macal River in Belize. It is currently a finalist for National Geographic's 2017 World Legacy Awards.
ENDS