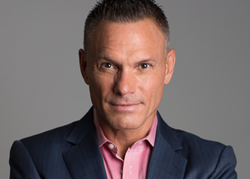 "Buzz Pop Cocktails has all of the ingredients to quickly grow to the highest ranks of success stories and we're thrilled to have formed a partnership to make that happen together," said Harrington
Las Vegas, Nevada (PRWEB) February 27, 2017
When Kevin Harrington, 'The Original Shark' from the Emmy Award winning show, Shark Tank, spotted Buzz Pop Cocktails, he recognized it immediately as a product that represented a huge potential to become a breakthrough innovation in the specialty cocktail category.
Kevin Harrington has been a successful entrepreneur over the last 40 years. He is an Original Shark on the ABC hit, Emmy winning TV show, "Shark Tank." He is also the Inventor of the Infomercial, As Seen On TV Pioneer, Co- Founder of the Electronic Retailers Association (ERA) and Co-Founder of the Entrepreneurs' Organization (EO). Mr. Harrington currently operates a private consulting firm that helps companies compress time on the success continuum by increasing distribution, analyze retailing opportunities and expanding global markets. His firm has launched over 500 products generating more than $5 billion in sales worldwide. Harrington's firm gets massive results because they know exactly what variables are at play for success, and how to identify them in an opportunity.
"Our team evaluates thousands of products each year and less than 1% makes the grade in terms of uniqueness and opportunity that qualify for the full weight of our time and resources," said Harrington. "Buzz Pop Cocktails has all of the ingredients to quickly grow to the highest ranks of success stories and we're thrilled to have formed a partnership to make that happen together," he added.
So what made Buzz Pop Cocktails stand out from other seemingly viable opportunities to partner with? Because Harrington looks at so many deals, he has a third eye for quickly assessing three things: The product, the people and the process. Holding a patent is key to Harrington's vetting process as it secures a slice of the market. Buzz Pop Cocktails holds the patented process for freezing high alcohol liquor with 12-15% APV (alcohol per volume) and this opens the door to dominate the specialty cocktail niche that, until now, have resulted in grainy consistency, slushy and poor tasting cocktails with low alcohol volumes under 5% APV. Buzz Pop Cocktails offers seasonal fruit, whipped into a 5-star restaurant, Italian-style gourmet sorbet infused with top shelf liquor. At under 100 calories, vegan, no artificial flavors or additives, cocktail aficionado's experience an indulgent premium frozen cocktail with a healthy twist delivered in a single serve, nostalgic push pop.
Going further in the vetting process, Harrington looks for a team that can run. Fast growth companies require agility, basic know-how, critical thinking and a team that knows how to lean in and enthusiastically ask, "What's next?" Joseph Isaacs, CEO of Buzz Pop Cocktails, is leading a dream team with shared values: They know how to focus on an objective, move quickly and execute in a way that Harrington requires before he agrees to partner up. He wants partners who are good stewards of his reputation, since a big part of his collaboration is opening up his rolodex to very successful people around the world. Once the introductions are made, he is trusting that people like Isaacs take full action and make the best use of it to further the business.
The process for bringing this product to market is the third element that Harrington looks at with a critical eye. What specific market are you targeting and what is your plan to get a toehold in that niche. Buzz Pop Cocktails is laser focused on the millennial generation that cares about quality products, invests in experiences and is willing to pay more for something fun and unique. And where do millennials like to have fun? Think Las Vegas & Miami Pool Day Clubs. Think major music festivals like EDC, Coachella, Ultra and SxSW. With Harrington's global relationships, Buzz Pop Cocktails has legs for licensing deals beyond the US market, including The Pacific Rim, Australia, China, Mexico, Europe and beyond.
"We're thrilled to be collaborating on their global expansion." said Harrington. "And it's all of these special qualities that Buzz Pops have that made it an easy decision to seize the opportunity and contribute as not just an investor and Board Member, but also as a Strategic Partner."
"We are excited and very humbled about our new strategic partnership with Kevin's team," said Isaacs. "His ability to take us further, faster is exactly what every business dreams of and we're honored to be one of a small percentage of businesses that passes muster with him."
ABOUT BUZZ POP COCKTAILS:
Launching in Las Vegas in March, 2017, Buzz Pop Cocktails is the only ready-to-serve, all natural 100% fruit, gourmet Italian-style sorbet with the patented process for freezing the finest top shelf liquor brands with 12-15% APV (alcohol per volume) to uniquely serve their customers a high-quality, frozen specialty cocktail. It's an "Indulgent premium cocktail with a healthy twist" delivered in a retro-style see through push pop. Buzz Pops just completed the construction of its production and distribution center just south of the famous Las Vegas strip to simplify coordinated distribution to hotels. Distribution plans include major music festivals, cruise lines as well as global licensing agreements that have been secured for expansion in 2017 into the Pacific Rim, Australia, China, Europe and Mexico markets.