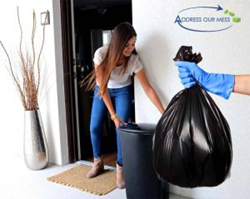 Our valet trash services are designed to help both property managers and residents.
Hoboken, NJ (PRWEB) February 27, 2017
Address Our Mess is offering valet trash services for living communities in New Jersey.
With this new service, available to apartment complexes and living communities in New Jersey, our technicians go door to door and collect and dispose of garbage. We provide our own dumpster, and all services are eco-friendly and follow city recycling guidelines.
These services are designed to help both property managers and residents. For property managers, it saves dumpster costs, makes it easier to maintain the property, and improves the overall appearance of the property by eliminating the need for multiple dumpsters. We keep only one dumpster on site and ensure the area around it is tidy and attractive to potential new customers.
It also makes the property more attractive for current residents. This is an extremely convenient service for renters, eliminating the need to take tedious trips to dumpsters. Residents no longer have to worry about going out in the cold or going near unsanitary dumpsters. All they have to do is put their trash in a designated bin outside of the front door and we will remove it for them on pickup days.
Bulk item pickup is also offered at an additional cost. This convenient service removes any additional stress from residents and makes it easy to schedule large item removal.
The goal of our valet trash service is to make things easier for property managers and residents in New Jersey. This service eliminates resident complaints about having to walk to dumpsters and takes care of the unsightly appearance of trash on the ground next to the dumpster that happens when clients put trash next to dumpsters instead of inside of them.
Our valet trash services not only remove trash, but also remove inconveniences, such as lugging full trash bags to dumpsters, dealing with overflowing dumpsters, and extensive expenses involved with property garbage maintenance and disposal procedures. This service will eliminate any trash disposal worries and make current residents happier with their community and entice prospective residents to join.
About Address Our Mess
Address Our Mess is a professional specialty cleaning company that handles hoarding, clutter, sorting, removal, and large organizational projects. The company has a mission to help give a fresh start to as many people as possible.