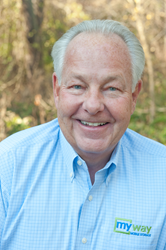 Pittsburgh, PA (PRWEB) February 21, 2017
Ed Sickmund, MyWay Mobile Storage of Pittsburgh Market Owner will be joining Re/Max realtor Eric McKenna on his weekly call-in radio talk show, Your Personal Realtor on February 25, 2017.
"Your Personal Realtor with Eric McKenna" airs Saturdays from 10:30am to noon on two stations serving the Beaver County area north of Pittsburgh—AM 1230 WBVP and AM 1460 WMBA. Station owner, Mark Peterson approached McKenna to do the show 7 months ago and since then McKenna has been providing listeners content on many aspects of Real Estate. "I take calls and emails on-air and we discuss listener questions and do our best to provide valuable insight," said McKenna. "I want to make Real Estate easy to understand and address any misconceptions people may have," he continued.
Sickmund commented, "I kept hearing promo spots for the show and was curious about it. Then I happened to run into Eric and we talked about the show and came to the realization that I'd be a perfect fit as a guest." Sickmund added, "I'm really looking forward to it. He says the show is a lot of fun."
The topics of discussion will include ways MyWay is a resource for homeowners thinking of moving, such as when they need to declutter, downsize, and store belongings temporarily when they are between homes.
For more information about "Your Personal Realtor with Eric McKenna," visit http:// http://CALLERIC.COM .
About MyWay Mobile Storage:
MyWay Mobile Storage is the leading provider of moving and storage solutions and located in a spacious 27,500 square foot facility in West Mifflin, PA to better service their customers in the metropolitan Pittsburgh area. They provide quick and easy do it yourself moving containers that can be delivered right to your door and stored in their climate controlled, secure storage facilities.
To learn more about MyWay Mobile Storage, visit http://www.mywaystorage.com or call 888-336-9929 to speak with a Moving & Storage Consultant.