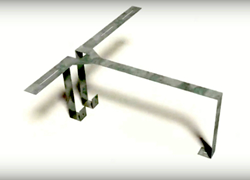 "Having to cut, measure and stagger each and every board, I'm thinking, there had to be a better way."
Round Mountain, Nevada (PRWEB) February 23, 2017
Jack Straps, a two-patent construction spacer technology for floor joists, conventional and cathedral style ceilings, are now available to both contractors and DIYers in North America. The announcement was made by Jack Strap inventors Jack and "Tinker" Evans. Jack Straps save time, money and result in better, faster, stronger and more consistently square structure.
How Patented Jack Straps Work
Jack Straps save time by eliminating the redundant measuring/placement of 2x4, 2x6, etc spacer boards between ceiling rafters or floor joists. Jack Straps are metal "spacers" that connect to each other at regular intervals, ready for screws or nails, creating perfect alignment. Jack Straps save on construction time and give superior strength. They're also perfect for the DIYer, who desire a great first-time result for their one-off projects.
Origins
Jack Evans, an avid builder, came up with the idea for Jack Straps while adding a cathedral type ceiling to his home. "Having to cut, measure and stagger each and every board," he says. "I'm thinking, there has got to be a better way." He and his wife Tinker started thinking about a strap, manufactured in two different lengths 14.5 inch for 16 inch center application and 22.5 inch for 24 inch centers. One Jack Strap design addresses a cathedral ceiling, with a one-inch bend for ventilation. The second design tackles conventional ceiling and floor joists. A third Jack Strap is applied between floor joists on the outside walls, the difference being an elongated side that is bent up for attachment to the wall stud.
Commercial and DIYer Applications
Construction companies would benefit from the time-savings involved for housing developments, office buildings and more. Mobile home and manufactured housing companies can highlight the additional strength offered by Jack Straps when transporting. DIYers will find enviable outcomes to their one-off projects. Jack Straps can be applied to doghouses, playhouses, tree houses and room additions. For all end users, Jack Straps take the labor intense and time-consuming job of repeated measuring and cutting out of the equation.
Additional Benefits
By improving the time spent to install the rafters and joists, costs are reduced. The structures built are more durable against high winds, hurricanes, tornados and earthquakes. The use of Jack Straps can reduce the incidence of cracks in wall plaster and insurance companies may award discounts and/or incentives to policy holders when Jack Straps are applied. A "green" approach can be considered here as the amount of wood products is reduced.
Patent #s/Investor Info
Jack Straps are the proud recipient of patent (# US 9,003,738 and US 9,322,159). The first patent is for Construction Spacers and Method. The patent protects and explains the method (the actual application) of the straps. The second is for Construction Spacers and Method (Apparatus), which protects and explains the actual dimensions, specifications of each Jack Strap design. Jack Straps is looking for investors to assist in bringing the product to market. For more information, please visit http://www.constructionstrength.com.
About Jack Straps
Jack Strap is the patented construction spacer that allows common construction tasks to be completed better, faster and less expensive than current methods. The metal brackets secure and ensure proper alignment of floor and roof joists, strengthening the structure in the process.
###