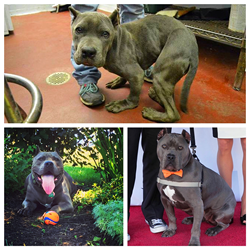 "Landis is the perfect example of the types of stories we are creating. The site sees more and more traffic every day and we want to find homes for as many pets as we possibly can!" – Ryan Vayo, Founder/CEO
(PRWEB) February 22, 2017
Meet Landis, the first adoption through mycomPETibility.com - the first algorithmic pet adoption website designed to match adopters with the perfect pet waiting in a shelter/rescue either nearby or throughout the US. Landis was a case of serious neglect. He is also a shining example of what happens when we put these pets in the perfect home, not just any home.
"Landis is the perfect example of the types of stories we are creating. We have over 10,000 shelters/rescues pre-approved on our site and encourage adoption organizations to sign up at http://www.shelter.mycomPETibility.com. The site sees more and more traffic every day and we want to find homes for as many pets as we possibly can!" – Ryan Vayo, Founder/CEO
Pets like Landis are why MycomPETibility.com was founded. Landis was 40 lbs, under developed, and malnourished when he was rescued by Second Chance Rescue in NY. Like too many pets he was afraid of the world, needed extensive care including mental and physical rehab, and needed a home that could spend the time and energy to nurse him back.
Today Landis stands proud at 85 lbs, still thinks he is a lap dog, and spends his days with his new family that includes a brother and sister (both adopted greyhounds). Landis, aside from being an inspirational story that fortunately has a very happy ending, is a great example of what happens when you let our algorithm-based pet adoption system help your animals find their Fur-Ever home.