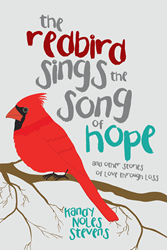 I want this book to create an environment where people openly talk about grief
(PRWEB) February 27, 2017
On Feb. 19, 2008, Kandy Noles Stevens waited for the arrival of her childrens' school bus, but in its place, she saw law enforcement and rescue vehicles. The school bus was involved in a tragic crash, which killed four children – including Noles Stevens' oldest son, Reed.
To cope with her grief, Noles Stevens began writing about her family's story, inspiring her new book "the redbird sings the song of hope and other stories of love through loss." Told in a southern storytelling style, readers will laugh, cry, and be moved by Noles Stevens' book as she shares heartfelt, and sometimes humorous stories about what is and isn't always helpful to people who are grieving.
Noles Stevens said she has not allowed grief to become her identity, but she has real and raw conversations about how grief affects her life. Noles Stevens also notes that grief and its aftermath is often not an easy conversation, which leaves many would-be comforters with questions about how to support someone who is grieving.
"Good people with good intentions often add more hurt to grieving people," said Noles Stevens. "This book is about our journey through grief and the education we received on what is helpful and what was definitely not supportive of our grieving. I want this book to create an environment where people openly talk about grief."
Through Noles Stevens' stories, she shares practical ideas about bringing comfort to those who are hurting, as readers will find hope-filled words of God's faithfulness on each page.
"the redbird sings the song of hope and other stories of love through loss"
By: Kandy Noles Stevens
ISBN: 978-1-51275-282-3 (sc); 978-1-51275-283-0 (hc); 978-1-51275-281-6 (e-book)
Available on WestBow Press, Amazon and Barnes & Noble
About the author
For most of her life, Kandy Noles Stevens wanted only two things – to be a mom and a teacher. True to her southern roots, Stevens has a story for everything as she shares her life and its trials. Her down-home style of writing leaves readers in tears, fits of laughter, or better yet, both. For more information, please visit https://kandynolesstevens.com/.
###
Review Copies & Interview Requests:
LAVIDGE – Phoenix
Courtney Coombes
480-998-2600 x 612
Ccoombes(at)lavidge(dot)com
General Inquiries:
LAVIDGE – Phoenix
Maggie Driver
480-998-2600 x 584
mdriver(at)lavidge(dot)com