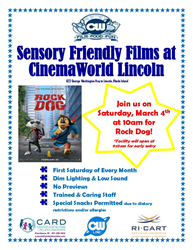 Lincoln, RI (PRWEB) February 23, 2017
The Center for Autism and Related Disorders (CARD) announced today a new partnership with the Rhode Island Consortium for Autism Research and Treatment (RI-CART) and Cinemaworld to present Sensory Friendly Films. The events will provide an opportunity for children with autism spectrum disorder (ASD) to see films in an environment that accommodates their unique needs.
Launched in January, Cinemaworld will host Sensory Friendly Films on the first Saturday of each month, with the next event being held on Saturday, March 4 for a screening of Rock Dog. The facility will open at 9:15am for early entry before the movie starts at 10am. In addition to reduced sound levels and dim lighting, Sensory Friendly Films will forego previews, offer a quiet area outside the theater for families, and have trained, caring staff on hand to assist. Concessions will be available for purchase, and special snacks are permitted for children with allergies or dietary restrictions. Family members and friends are welcome to attend. Cinemaworld Lincoln is located at 622 George Washington Hwy, Lincoln, RI 02865.
"We are so happy to be partnering with RI-CART and Cinemaworld to bring families a monthly sensory-friendly movie in a caring and comfortable environment," said Amanda Moniz, outreach coordinator at CARD Providence."We hope families with individuals with special needs can enjoy a movie together every month in a fun and understanding atmosphere with support."
"Cinemaworld is excited to collaborate with CARD and RI-CART to offer this opportunity to such a large and caring part of our local community," added Jim Halloran, general manager of Cinemaworld Lincoln and CW Lanes & Games."With this program, we hope to provide a fun and safe moviegoing experience to more great families. We at Cinemaworld know that by working with CARD and RI-CART, we can provide a program that further benefits our local children and families. More importantly, we will embrace a fun, supportive, worry-free environment where families can do what's best: have fun!"
Sensory Friendly Films is one of many events CARD has helped launched in the communities it serves to provide children and families affected by ASD with an opportunity to have fun in a setting that is conducive to their health and comfort. For more information, please contact Amanda Moniz at a.moniz(at)centerforautism(dot)com or 401-288-3634.
About Center for Autism and Related Disorders (CARD)
CARD treats individuals of all ages who are diagnosed with autism spectrum disorder (ASD) at treatment centers around the globe. CARD was founded in 1990 by leading autism expert and clinical psychologist Doreen Granpeesheh, PhD, BCBA-D. CARD treats individuals with ASD using the principles of applied behavior analysis (ABA), which is empirically proven to be the most effective method for treating individuals with ASD and recommended by the American Academy of Pediatrics and the US Surgeon General. CARD employs a dedicated team of nearly 2,000 individuals across the nation and internationally. For more information, visit http://www.centerforautism.com or call (855) 345-2273.
###