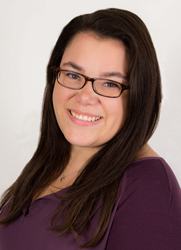 DOYLESTOWN, Pa. (PRWEB) February 23, 2017
Furia Rubel Communications, Inc. is pleased to announce that Caitlan McCafferty has been named to the planning committee of A Woman's Place for the organization's annual Chocolate Lovers' Fantasy event, scheduled for April 1 from 6 p.m. until 11 p.m. at The Fuge in Warminster, Pennsylvania.
McCafferty, a Public Relations Account Manager for Furia Rubel, will assist the event planning committee and A Woman's Place staff in attracting sponsorship and organizing the night's auction. Proceeds will go towards the organization's ongoing mission of empowering women and ending intimate and domestic violence.
"I am humbled to serve on the planning committee for this year's event to benefit A Woman's Place," said McCafferty. "It's a special opportunity to give back to an organization that provides so much in the way of advocacy, service and educational outreach for the women and families of our Bucks County community."
McCafferty came to Furia Rubel Marketing and Public Relations, Bucks County's award-winning strategic-planning and integrated marketing agency, in August 2016. As an Account Manager, McCafferty supports integrated communications strategy and implementation for all clients including public relations, media relations, crisis communications, marketing and social media.
Additionally, McCafferty is a long-time supporter of A Woman's Place, where she previously assisted the organization with marketing and public relations.
Founded in 1976 in Sellersville, Pennsylvania, A Woman's Place is Bucks County's only nonprofit focused on ending domestic violence. Based in the county seat of Doylestown, A Woman's Place works to accomplish its vision of a society where all individuals are safe and can flourish by offering programs and services in alignment with its values of courage, creativity, equality, integrity, respect, and social justice. To learn more, visit awomansplace.org.
About Furia Rubel Marketing and Public Relations: Furia Rubel Marketing and Public Relations is an integrated and strategic marketing and public relations agency based in Bucks County, Pa. The certified woman-owned agency provides strategic planning, marketing, public relations, media relations, graphic design, website design, content marketing, blog production and social media services to a wide array of professional clients. Furia Rubel represents law firms, technology companies, educational organizations, accounting firms, nonprofits, municipalities, and manufacturing, behavioral health and elder care organizations. For more information, visit http://www.furiarubel.com, follow on Twitter at @FuriaRubel or subscribe to the blog at ThePRLawyer.com.
# # #