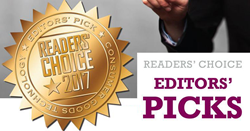 This recognition for a 2nd year is a strong testament for our solution, team of data modelers and technology experts who provide consumer goods companies the tools to compete with content
Sterling, VA (PRWEB) February 23, 2017
EnterWorks, a leading provider of Master Data Management (MDM) and Product Information Management (PIM) solutions, has been recognized by Consumer Goods Technology Magazine in its Readers' Choice issue. EnterWorks was chosen as a 2017 Editors' Pick for its impact on technology innovation by consumer goods organizations.
CGT recognized EnterWorks' solution for its ability to enable companies to acquire, manage and transform product information into persuasive content that drives sales, increased collaboration and new competitive strengths. The editors also commended EnterWorks' citing EnterWorks was named a "Strong Performer" in "The Forrester Wave: Product Information Management Solutions" report in fourth-quarter 2016, earning praise for providing customers with strong reporting capabilities and cloud-architecture flexibility.
"This recognition for a 2nd year is a strong testament for our solution and team of data modelers and technology experts who provide consumer goods companies with omnichannel content networks they need for commerce. We help them master omnichannel complexity, engage in real-time content collaboration with trading partners, and create the single view of content needed for delivering differentiated customer experiences," said Rick Chavie, CEO of EnterWorks. "It's an honor to be recognized, especially as CGT's Readers' Choice picks are backed by CPG executives who depend on the value they get from our solution and services."
The 2017 Editors' Pick is an opportunity for Consumer Goods Technology editorial staff to recognize the 14 technology solution and service providers that are making a substantial impact on the industry. Each company has been endorsed by consumer goods executives throughout the year and continue to offer robust solutions that provide CPG companies a competitive edge.
"2016 was a great year for us. We added multiple packaged goods customers, made innovative advances to our MDM and PIM platforms, and were highly ranked in Forrester's PIM Wave," continued Chavie. "In 2017, we look forward to continued investments in our solutions for CPG brands to help them compete with content in an increasingly complex omnichannel markets."
To learn more about EnterWorks' PIM and master data management (MDM) solutions, visit enterworks.com. Click Here to learn more about the 2017 Editor's Picks in CGT Magazine.
About EnterWorks Holding Company (http://www.enterworks.com)
EnterWorks® master data management (MDM) and product information management (PIM) solution enables companies to acquire, manage and transform product information into persuasive content that drives higher sales and new competitive strengths through e-commerce Web, mobile, print and various electronic channels. EnterWorks is highly ranked by industry analysts and experts. EnterWorks serves as the content foundation used by industry leaders such as: Johnstone Supply, US Foods, Mary Kay, Orgill, W.B. Mason, Guthy-Renker, and Fender Musical Instruments.