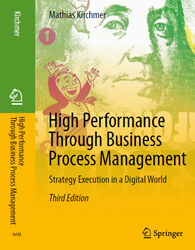 This is another thought leader contribution of BPM-D for the process management and digitalization community.
Philadelphia, USA; London, UK (PRWEB) February 23, 2017
BPM-D announces the release of the new book: "High Performance through Business Process Management – Strategy Execution in a Digital World," authored by Dr. Mathias Kirchmer, Managing Director and Co-CEO of BPM-D. This is the third edition of the "High Performance" book, publicly available early March.
This next level management book presents value-driven business process management as a successful method to turn strategy into people and technology-based execution, quickly and at minimal risk. It explains how to achieve high performance effectively in a digital business environment using the opportunities and avoiding the threads of Digitalization. The author discusses topics like process innovation, digital technology and people aspects, process governance, internationalization, emerging processes and the unique situation in mid-market organizations. It concludes with a comprehensive case study and unique discussion about what process engineers can learn from jazz musicians.
The book is positioned through a foreword by Sisir Padhy, Vice President Process Excellence & Innovation from Verizon. Other endorsements are from Jim Romine, President of the Research Institute for Fragrance Materials (RIFM), Ronan Loaec, CIO North America, Groupe Savencia, Deb Boykin, Director of Business Process Management at Pfizer and Pat Paladino, Senior Strategy Manager at TELUS Communications.
"This is another thought leader contribution of BPM-D for the process management and digitalization community. I am looking forward to using the new ideas and findings to create even more value for our clients and help executives, practitioners and students to shape their thinking about the topics," commented Dr. Mathias Kirchmer.
About BPM-D
BPM-D® (http://www.bpm-d.com) partners with its clients to achieve productivity and performance through cross-functional business and information technology initiatives. It is the expert company to set up and apply a business process management discipline that provides significant value through systematic strategy execution in a digital world. The business was established based on the years of experience of its co-founders in delivering components of this vision: process management strategy; process and data governance; rapid process improvement; standardization, client-journey mapping, value-driven modeling & repositories; and change enablement to organizations, both large and small.
All BPM-D offerings are based on the patent pending BPM-D Framework that enables fast results at a low risk. The offerings support a focused and dynamic approach to process management and improvement. This is pragmatic and outcome-based, linking to business strategy and working to translate this into execution, faster and more reliably.
BPM-D also supports organizations to select and manage other consulting partners, especially for larger process-led transformations. We help define and balance the roles of the internal BPM-Discipline and the externally acquired services to ensure that programs deliver immediate improvement and a sustainable ability to realize value from change.
For small and medium sized software and consulting companies we leverage our years of industry experience to assist in defining and executing growth and internationalization plans. We provide support in all areas of the BPM-Discipline critical to the success of our clients.