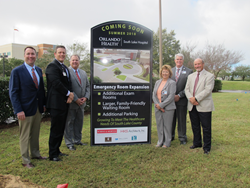 CLERMONT, Fla. (PRWEB) February 24, 2017
South Lake Hospital, Robins & Morton, HKS Architects and honored guests joined together to officially break ground on the South Lake Hospital expansion located in Clermont, Florida.
The $33 million expansion and renovation project includes 42,165 square feet of new space to the emergency department, surgery and material management department. The project also includes 41,675 square feet of renovation to various areas within the hospital including the emergency department, surgery, PACU, post and pre-op, materials management and food services.
The project is scheduled for completion in April 2019.
###
About Robins & Morton
Founded in 1946, Robins & Morton is a privately held construction firm that consistently ranks among the 100 largest U.S. contractors in Engineering News-Record Magazine. The company has also been named one of the best mid-sized companies to work for in America because of its worker-friendly and family-friendly practices. Robins & Morton is based in Birmingham, Alabama, with offices in Dallas, Texas; Huntsville, Alabama; Orlando and Miami Florida; Nashville, Tennessee; Charlotte, North Carolina. For more information, visit http://www.robinsmorton.com.