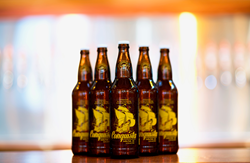 San Diego, CA (PRWEB) February 27, 2017
Coronado Brewing and Cigar City Brewing are no strangers to good IPA's, so it only made sense for these two award-winning breweries to join forces on a hop-forward collaboration: Conquista IPA. Cigar City Brewmaster, Wayne Wambles, partnered with Coronado Brewmaster, Ryan Brooks, to brew a west coast-inspired IPA featuring Polaris, a new German varietal prized for its complex pineapple and herb notes. "Wayne and I both love IPA's and we wanted to brew something we'd enjoy drinking," says Ryan Brooks, Brewmaster, Coronado Brewing Company. "We knew we wanted the beer to be dank and juicy, and we definitely achieved that with Conquista."
Brooks flew to Wolnzach, Germany to hand-select the Polaris hops used for this beer. "It was important for me to try different lots of this hop to ensure the batch we selected was perfect," says Brooks. A blend of Polaris, Equinox, and Simcoe gives the beer earthy, resiny, ripe mango, and herbaceous notes. The beer is then dry-hopped with same hop blend for a pleasant ripe-fruit aroma, with hint of spice. "We had a lot of fun brewing this beer together," says Brooks. "It was awesome having Wayne fly in to help with the brew and we're excited for people to try it."
Conquista is available in 22oz bombers and on draft throughout Coronado's distribution network. Fans are invited to stop by the Coronado Tasting Room beginning this Friday to pick up fresh bottles before they hit retail shelves. For more information about Conquista IPA, please visit coronadobrewing.com/beer/conquista-ipa/. Stay Coastal. Cheers.
Label Copy
Like the Conquistadores exploring new lands, Coronado and Cigar City Brewing have set out to brew an IPA in unchartered waters. Conquista showcases the recently introduced German hop, Polaris, known for its high alpha acids and distinct pineapple and herbaceous notes. This collaboration IPA is sure to stake a claim on your taste buds.
Specs
6.5% ABV
55 IBU