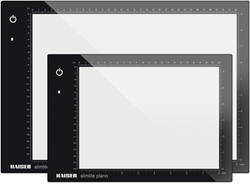 North White Plains, NY (PRWEB) March 02, 2017
At just 8mm high, Kaiser's new Slimlight Plano LED light boxes are not "boxes" at all. They are flat as a pancake and feature perfect specifications for viewing, sorting and digitizing slides as well as other transparent originals. The Slimlight Plano LED Light Box features superior performance with respect to color rendition and uniform illumination in a compact design with various power supply possibilities and adjustable brightness. Available in two different models with illuminated areas of 22 x 16 cm (8.7 x 6.3 in) and 32 x 23 cm (12.6 x 9.0 in) respectively.
Battery Powered and Rechargeable
Choose from three options for the power supply: built-in lithium-ion battery, plug the USB cable into any electrical outlet with the included charging adapter, or plug the USB cable directly into a power bank or your computer.
Smooth, Neutral and Even Light
The 5000 Kelvin color temperature with 88 CRI provides precise color rendition for inspection and photographic reproduction of originals.
Intuitive Dimmable Controls
A short press of the touch switch activates the light source, a longer hold changes brightness continuously.
Perfect for Macro Photographers, Illustrators & Crafters
No longer solely used to digitize negatives and slides, the Kaiser Slimlite Plano LED Light Box has also gotten the attention of more creative imagemakers like macro photographers and illustrators. The ultra compact size and portability make these units ideal for drawing, drafting, tracing, creative image composition and crafts of all kinds.
For more information, contact Brenda Hipsher, Kaiser Brand Manager at BrendaH(at)MACgroupUS(dot)com
About Kaiser
Kaiser Fototechnik is totally committed to providing the highest quality photographic and digital products and solutions to demanding students, educators, photographers, archivists and craftspeople. Founded in 1945, Kaiser Fototechnik is a German company that designs and manufactures precision products with the reliability and functionality consistent with the "Made in Germany" label. Our product line includes analog and digital products suitable for enthusiasts and professionals in both photo and video. These technically advanced tools provide solutions for today's imaging challenges by offering modular systems that can be easily adapted to the user's requirements. Our commitment is to provide superior customer service and products that reflect quality, reliability, and performance.
About MAC Group
MAC Group is a sales, marketing and distribution company dedicated to supplying photographers, videographers, educators and students with the world's finest image-making tools, education and inspiration.