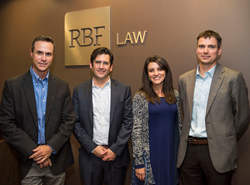 RBF Law founder Michael Rollin shared, "We believe it is important for us to invest in our attorneys so they can then invest in the community. Sending our associates to the Washington DC conference was just the beginning."
Greenwood Village, Colorado (PRWEB) February 28, 2017
As thought leaders in the community, the complex civil and commercial litigators of Rollin Braswell Fisher LLC ("RBF Law") are embracing a new direction toward advocacy for social justice in response to the country's current climate.
The impetus for RBF Law's new approach was inspired by the firm's lawyers' involvement with Lawyers for Good Government. RBF Law associates, Corey Longhurst and Tara K. Williams, were part of the small group of Colorado attorneys that attended the Lawyers for Good Government's Rise Above Conference in January 2017 in Washington, DC. Following the conference, the civil and commercial litigators of RBF Law were moved to create a pathway for Colorado lawyers that do not practice in the public interest space to be more active in social justice issues affecting the greater Colorado community. RBF Law founder Michael Rollin shared, "We believe it is important for us to invest in our attorneys so they can then invest in the community. Sending our associates to the Washington DC conference was just the beginning."
In the present moment, lawyers that devote their careers to advocating for social justice issues are inundated and do not have the resources that lawyers at private law firms have. RBF Law looks to fill this gap by bringing together lawyers from different practice areas and giving them the tools and knowledge to take action. RBF Law's Managing Partner Maritza Dominguez Braswell explained, "In the current climate, we're seeing lawyers, many within our own firm, feeling called to advocate for social justice. This is our way of empowering those individuals who want to make a difference."
Taking the first step toward this new vision, RBF Law is partnering with Rocky Mountain Immigrant Advocacy Network ("RMIAN") to host its first event on March 15, 2017 from 8 a.m. to 9 a.m. This informational lecture will focus on providing lawyers an overview of the new Executive Orders and the impact of those orders on the immigrant community. In addition to the overview of the new Executive Orders, RMIAN's Executive Director Mekela Goehring and Pro Bono Coordinator Alex Gavern will discuss the emergent relief potentially available to detainees including bail bond hearings and petition for asylum. Attorneys will come away with a general understanding of legislative framework and processes of the system to enable them to provide assistance to the local immigrant community.
There is no cost to attend the event, however space is limited. RSVP to JThompson@RBF(dot)Law no later than March 10, 2017 to reserve your place. Breakfast will be served during the lecture and it will be hosted at Rollin Braswell Fisher's offices located at 8350 E. Crescent Parkway, Suite 100 in Greenwood Village. CLE credit is pending. Colorado lawyers of all practice areas that have an interest in becoming more active in social justice issues are encouraged to attend.
***
ABOUT RBF LAW. Rollin Braswell Fisher LLC ("RBF Law") is a modern litigation firm located in Greenwood Village, Colorado. The firm practices locally and nationally in complex civil, commercial, and capital markets litigation. RBF Law has been involved in some of the most complex and well-publicized legal battles in the country.