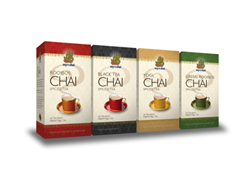 Boca Raton, FL (PRWEB) March 02, 2017
My T Chai, a South Africa company with a unique range of spiced rooibos teas, has announced its products are now available for purchase on RonnieColemanNutrition.com, a popular fitness and nutrition website.
The company originated in a small kitchen in Cape Town and quickly grew into the Chai kingdom consumers know and love today. My T Chai is currently available for sale in specialty stores around South Africa. This includes delis, health stores, and coffee shops. It can also be found at major retail stores such as Spar, Pick n Pay, Checkers, Dischem Pharmacies, and Wellness Warehouse.
With such high demand the company has sought elsewhere to meet the needs of their consumers. RonnieColemanNutrition.com allows My T Chai to reach a vast audience in an easier and timely manner.
"Ronnie Coleman is a world renown athlete and highly respected in his community. We are thrilled to be able to reach our costumers through such a highly regarded website," said Dirk Geldenhuys, CEO of My T Chai. "RonnieColemanNutrition.com houses thousands of nutritional products and targets the perfect audience for our brand."
My T Chai was founded on a simple belief that with no preservatives, no artificial flavorings, just authentic spices, antioxidant rich, caffeine free rooibos tea and a whole lot of love, the world can become a better place. With this philosophy, the company has created a number of exciting flavor blends to please tea lover's palates and enjoy the goodness of pure wholesome ingredients like cardamom, ginger, clove and rooibos or honeybush tea to name a few.
All My T Chai's teas can be enjoyed hot or cold, with or without milk or sugar.
The company is also committed to reducing their carbon footprint. Using Kosher and Halaal certified products My T Chai is conscious of their emissions and makes sure to provide costumers with ingredients that are both healthy for the body as well as the planet.
For more information about My T Chai, visit http://www.mytchai.com.