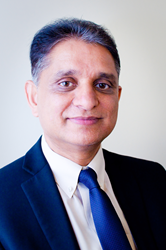 Austin, TX (PRWEB) February 28, 2017
iTexico CEO Anurag Kumar will join a distinguished panel discussion on globalism and nearshoring at the upcoming SXSW conference in Austin, TX.
The annual conference -- which allows attendees to explore what's next in the worlds of entertainment, culture, and technology -- will take place March 10-19, 2017 in iTexico's hometown.
Kumar will participate in a pro-globalism panel discussion entitled "Keep IT Services Rolling: Say No to Isolationism." The session, scheduled from 5 to 6 p.m. on March 12, will explore how companies can compete in an ever-changing worldwide marketplace while working to maintain their own brand and cultural identity.
The panel discussion -- which will also feature Blanca Trevino, president and CEO of Mexico-based IT company Softtek; and Mauricio Antunez, president and co-founder of Austin-based IT company AXEN USA -- will look at how such global trends are changing the IT service model, and particularly, how competitive Mexican-based IT services are promoting a nearshoring model that support global IT initiatives.
iTexico -- a pioneer in the collaborative nearshore services model -- integrates work teams in Austin, Texas, Mountain View, CA and Guadalajara, Mexico.
About iTexico
iTexico is devoted to delivering leading-edge, user-engaging applications and software services to its clients, by leveraging an innovative nearshore model. With its headquarters in Austin, TX, as well as a wholly-owned software development and delivery center in Guadalajara, Mexico, iTexico provides dedicated teams for mobile and cloud development, testing, and support. iTexico has experienced significant growth every year for the last 5 years and maintains strong business partnerships with many large-scale tech companies, including Axway, IBM, Xamarin, and Microsoft. iTexico employs more than 140 professionally trained mobile and cloud developers. For full information on how our services can help you, please visit our homepage at http://www.itexico.com