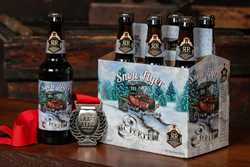 "It's a great feeling to be recognized on a national stage and to contribute to the growing craft beer reputation of Pennsylvania." - Rich Schrader, General Manager
MIFFLINBURG, PENNSYLVANIA (PRWEB) March 02, 2017
Rusty Rail Brewing Company was awarded the following two medals at the 2017 Best of Craft Beer Awards in Bend, Oregon:
Silver – Robust Porter Category – Snow Flyer H.C. Porter
Bronze – Golden or Blonde Ale or English-Style Summer Ale Category – Blue Collar Blonde Ale
"Words cannot describe the excitement at our brewery right now," explains Rich Schrader, General Manager. "I'm incredibly proud of the entire team. It's a great feeling to be recognized on a national stage and to contribute to the growing craft beer reputation of Pennsylvania."
2017 marks the fourth installment of the Best of Craft Beer Awards, which saw a 50% growth in brewery participation this year. In total, 245 medals were awarded out of 1,755 entries across 84 categories to 145 breweries. The competition was judged by industry experts and Beer Judge Certification Program (BJCP) Certified Judges. Only two Pennsylvania breweries were recognized with medals.
"This is just the start of more great things to come," says Guy McCarty, Brewery Manager. "We've spent years on recipe development and continue to add talented people to our team. Keep an eye out for several innovative releases from Rusty Rail Brewing throughout 2017 and into 2018."
Rusty Rail Brewing Company was established in 2013 by a group of passionate craft beer drinkers with the shared dream of becoming the next big name in Pennsylvania craft brewing. Commercial distribution began in 2015 and Rusty Rail Brewing Company can now be found throughout all of Pennsylvania and New Jersey, with plans to expand across the Northeast. For more information on the brewery, visit http://www.rustyrailbrewing.com.