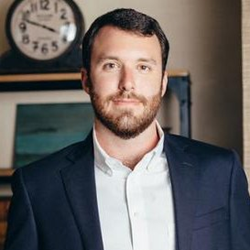 I look forward to seeing where Harris will lead his all-encompassing teams. He brings a strong energy and is results driven, which are the perfect combination for this new role at RJ Young. —Mike Noffsinger, VP of Sales
NASHVILLE, TENNESSEE (PRWEB) March 01, 2017
RJ Young, the third largest independent office equipment dealer in the Southeast, is pleased to announce the promotion of Harris Delchamps to Director of Integrated Solution Sales. Harris has been with RJ Young for over five years where he previously served as the Director of Managed Print Services.
Harris will lead sales for the IT Services and Software divisions. He will also continue to oversee Managed Print Services. "Assembling the three divisions under the Integrated Solution Sales umbrella is a company first for RJ Young "said Mike Noffsinger, Vice President of Sales. "It is also a pleasure to promote dedicated employees within our organization. I look forward to seeing where Harris will lead his all-encompassing teams. He brings a strong energy and is results driven, which are the perfect combination for this new role at RJ Young."
Harris is a graduate of The University of Alabama with a Bachelor of Science degree in Commerce & Business Administration. He earned a place in the RJ Young President's Club for leading sales In 2013-2015. He has volunteered and been part of local organizations such as Habitat for Humanity, Young Leader Council and Tennessee Wildlife Resources Foundation.
About RJ Young
RJ Young is one of the largest independent office equipment dealers in the country, specializing in document management solutions, managed print services, IT services and office imaging. Headquartered in Nashville, Tennessee, RJ Young has been in business for 61 years and has over 500 employees in over 20 sales and service locations across six states. Under the corporate tagline "Your productivity is our mission," RJ Young helps modern professionals become more successful in their businesses with solutions to securely manage paper and digital information, maintain vital information technology systems and empower businesses with leading printing technologies. You can visit RJ Young online at: http://www.rjyoung.com.