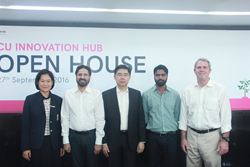 "The biggest risk a startup faces is the initial failure. The concept looks nice at the ideation stage or on paper but remember, that's just the first stage. Jappreet Sethi, Co Founder of YoStartups.com,
(PRWEB) March 02, 2017
"Everybody has a plan until they get punched in the mouth," said Boxer Mike Tyson once while talking about his opponents' prefight tactics. What Tyson said is relevant for startups also as most of them fail to survive the first connect with customers.
"How to prepare for that 'punch' which can make or break your dream", is a million dollar question for any startup.
To answer it, Thailand's most prestigious institution for higher education, Chulalongkorn University, and YoStartups, which provides early stage support to build and scale start-ups, joined hands and ran a unique startup acceleration programme in the university's innovation hub. Based on the concept of 'lean Startup', this two-day and one-night event, called CU Startup Weekend, on February 4 and 5, 2017 taught the participants how the power of failure provides a proper perspective of success.
Professor Bundhit Eua-arporn, President, Chulalongkorn University, inaugurated the event. Professors, alumni and existing students attended workshops and lectures, which emphasized the need to test a startup idea among its potential users and customers before it becomes a final product. The process of successive failure helps create a minimum viable product and maximizes its chances of success.
Government in Thailand is already working on an economic supercharger, Thailand 4.0, the purpose of which is to develop the country as a high-income nation.
"With Thailand 4.0, our country is on the path to becoming an innovation-led economy that works on the principle of more for less. Through such workshops, Chulalongkorn University and its resources are being channelized to help Thai entrepreneurs unleash their real potential to build world-class high growth organisations from Thailand, says Dr Natcha Thawesaengskulthai, Assistant to the President for Strategy and Innovation at Chulalongkorn University.
Various reports suggest that 75% to 90% startups fail because of several factors, prominent among them is the failure to come us as a viable product. The initial startup idea is a fiction or a dream. The concept of 'lean startup' advocates testing of this initial dream with customer engagement at every stage from translating into a business plan to manufacturing a final product.
As per Jappreet Sethi, Co Founder of YoStartups.com, "The biggest risk a startup faces is the initial failure. The concept looks nice at the ideation stage or on paper but remember, that's just the first stage. "He adds, "So it's better to put the concept into the domain of potential customers, so that you will know its pros and cons and by the time it comes on paper, it's through the first stage." Sethi says that regular feedback from customers help arrive at a minimum viable product which has great success rates.
The workshop activities include helping participants refine their concept, solidify their startup ideas and business models, create entrepreneurial mind-sets, enhance their viability through business workshops and readiness level in term of business maturity, presentation, communication skill, and mindset.
The Jury comprised of YoStartups team that included Sotiris Yannopoulos from Greece, Abhishek Singh and
Jappreet Sethi from India. Frank Fan, Head of Asia at Euroterra Capital flew down from Hong Kong and DR. Naphunsakorn Waiyawuththanapoom, from Chula Innovation Hub.
After hours of mind-boggling relentless interactions and exchange of ideas with all the participants, three startups Connext.ai, HealthCheck and Tixget were selected for further mentoring and training by the YoStartups and CU Innovation hub.
The Three Lucky Winners
Co-founded by Pakawat Teerawattanasuk and Chanchai Tanatkatrakul, Connext.ai is a chat-as-a-service company targeting enterprise customers to provide automated 24/7 customer service / support center via instant messaging platforms that are efficient and affordable.
The second winner was Healthcheck, the first online health checkup booking agency, which was born out of enterprising initiatives of three entrepreneurs, Ms. Aurachorn Inkanuwat, Dr Itthikorn Thosuwanchote and Dr Pipat Duangkamsawat. It introduced a convenient system for any person seeking medical assistance to book any health checkup program at any hospitals, anytime in the most convenient manner.
A four-member team of Baramee Navanopparatskul, Peter Thaveepolcharoen, Pawoot Pongvitayapanu, Premthana Thepibool introduced 'tixget', which emerged as the third winner. 'tixget' is an online ticket marketplace platform for tours and traveling activities. Both business groups and customers can benefit from it. While the travelers can buy their tickets online, tour operators and companies can manage their ticket sale using its software as a solution.
----------------------
About -CU Innovation Hub:
CU Innovation Hub supports Thai society to become an intellectual community with an innovation ecosystem that links expertise, research, and innovation with creativity skill, critical thinking, and entrepreneurship. Our three major activities include Academy, Incubation and Acceleration, and Outreach or innovation one-stop- service CU Innovation Hub focuses on grooming talents, nurturing innovations and sustaining Thailand's start-ups. We act as a platform to help transform how Thais live, learn, and play, leading to the foundation of sustainable economic and social development.
About YoStartups:
YoStartups is vibrant, energetic and focused Company supporting startups from the idea stage onwards, guiding them to success. It does this through a team of talented and experienced professionals from all over the world, utilizing a unique web platform that provides content management, investor readiness & beta customers. Moreover, startups can rely on our team for one to one mentoring, best startup practices and technics to solve the vast majority of issues for pre seed and also seeded startups. YoStartups collaborates with leading Universities, co-working spaces, incubators, VC's & Business Angels for a holistic approach in the startup competitive and uncertain environment. Since, according to all recent International studies indicate that 3 out of 4 startups unfortunately fail, YoStartups is the answer to make peoples dreams a reality in this fast changing world full of inequality.
For more information please contact:
Jappreet Sethi
Co Founder & Global Head of Marketing
YoStartups Private Limited
Email: j(at)yostartups(dot)com
web: http://www.yostartups.com
FB: http://www.facebook.com/yoStartups
twitter: http://www.twitter.com/YoStartups
Instagram: http://www.instagram.com/YoStartups
Naphunsakorn Waiyawuththanapoom, Ph.D
Director of Incubator and Accelerator program
CU Innovation Hub
Email: naphunsakorn.w(at)gmail(dot)com
web: http://innovationhub.chula.ac.th/
FB: http://www.facebook.com/cuihub
Line: @cuinnovationhub