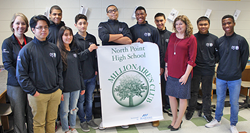 Suitland, Maryland (PRWEB) March 02, 2017
Andrews Federal Credit Union, a sponsor for the Millionaire's Club at North Point High School in Waldorf, Maryland, recently purchased personalized long-sleeve pullovers for the Club's student members and Club Advisor. The pullovers, which will be worn to various competitions, are all black and feature the High School and Club's logo stitched on the pocket area, along with Andrews Federal's logo on the sleeve.
"When we first began discussing a personalized article of clothing, the student's eyes lit up and their ideas began to flow," said Andrews Federal's Oma George, Chief Retail Officer. "It was our pleasure to provide them with something they can wear proudly in support of their Club."
"We appreciate the support from Andrews Federal," said Lynette Baker, Millionaire's Club Advisor. "The kids are extremely happy to have something that distinguishes them as Club members."
The Millionaire's Club is a complete financial skills program designed for delivery in a club-like setting at the high school level. Clubs are provided seed grants, detailed curriculum, and Faculty/Student materials at no charge. Also included is entry into national competitions such as The Stock Market Game™ and The Personal Finance Challenge™ and additional support materials which add a fun, competitive edge to the Club's activities.
About Andrews Federal Credit Union
Andrews Federal Credit Union was founded in 1948 to serve the needs of military and civilian personnel by providing a vast array of financial products and services. With over $1.4 billion in assets, Andrews Federal has grown to serve more than 119,000 members in the District of Columbia, Joint Base Andrews (MD), Springfield, Virginia (VA), Joint Base McGuire-Dix-Lakehurst (NJ), and military installations in central Germany, Belgium, and the Netherlands. In addition, the Credit Union serves as a financial partner with many select employee groups in Maryland, the District of Columbia, Virginia and New Jersey.
To learn more about Andrews Federal Credit Union and its community involvement, or to become a member, call 800.487.5500 or visit http://www.andrewsfcu.org.